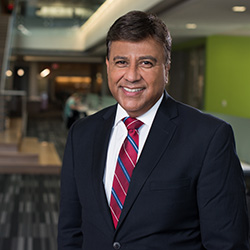 May 5, 2017
I hope you enjoyed this year's Commencement festivities as much as I did. Presiding over graduation has been one of the most rewarding functions for me as a dean. I am so proud of the Class of 2017 and look forward to outstanding accomplishments from our newest physicians from the UA College of Medicine – Phoenix.
CyberMed Summit
In this communication, I would like to tell you about a first-of-its-kind conference organized by two of our medical school graduates. Jeff Tully, MD, and Christian Dameff, MD, both Class of 2014, are among the featured speakers at the inaugural CyberMed Summit, "Fighting Hackers: Health Care's Newest Threat," scheduled for June 8-9, 2017, here on our campus. Our medical school is hosting the conference in partnership with the Atlantic Council, a prominent Washington, DC, think tank that addresses pressing global issues, and working in collaboration with the Office of Research and Development of the University of Arizona.
Patient Safety
The purpose of the CyberMed Summit is to have meaningful discussions with policymakers, clinicians, security researchers, health care administrators and medical device manufacturers about ways to prevent malicious attacks and develop solutions to keep patients safe and medical technology secure.
Health and Tech Experts
150+ leaders are registered for the Summit, including our clinical partners at Banner Health, Dignity Health, Maricopa Integrated Health System, Phoenix Children's Hospital &mash; as well as national technology experts from the U.S. Secret Service, Johnson & Johnson, Abbott Laboratories, the FBI, the U.S. Food and Drug Administration and Homeland Security. These leaders will participate in simulated cyber crisis exercises in a hospital setting at our Center for Innovation and Simulation.
General Public Sessions
Four CyberMed sessions are free and open to the public, and I encourage each of you to attend. Do not miss the opportunity to hear the keynote address by Suzanne Schwartz, MD, MBA, associate director for Science and Strategic Partnerships at the FDA's Center for Devices and Radiological Health. Her portfolio most notably includes medical device cybersecurity, for which she chairs the Cybersecurity Working Group.
We hope that you will attend the Summit. Your involvement will certainly add to the success of this inaugural event. Learn more and register.
I hope your summer includes a respite from the heat and most importantly quality time with loved ones.
Kindly,
Kenneth S. Ramos, MD, PhD
Former Interim Dean
University of Arizona College of Medicine – Phoenix