Dear Colleagues,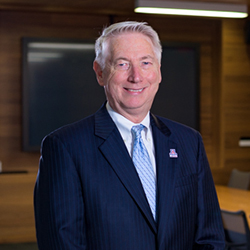 February is Heart Month, but just acknowledging that designation is not enough. As a campus, it is vital that we embrace the opportunity the month presents to create awareness about the potential dangers of heart disease.
After all, heart disease is the number one killer of both women and men.
As recently as 2017, it was estimated that around 800,000 people die from heart disease — which also includes strokes and other cardiovascular diseases — each year. That is an average of one-in-three of all the deaths in the United States over that period.
As scary as those statistics are, numbers suggest that 80 percent of heart disease is preventable. 
At the college, we fully embrace our role in the movement to make Arizona not only more health conscious, but also more alert of these inherent risks. We also take pride in being an institution that strives to alleviate heart disease's devastating effects through groundbreaking research, education and compassionate care.
I feel very fortunate to share 'my piece' on how to drive down heart disease. Will you join me, UA President Dr. Robert C. Robbins, our renowned faculty, alumni and students by helping to create awareness?
We ask that you share this video, save a life!
We can all be agents of positive change in this battle. And remember: Go RED!
Sincerely,
Guy L. Reed, MD, MS
Dean, UA College of Medicine – Phoenix