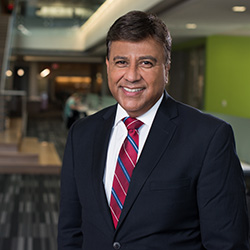 Spring has arrived, bringing orange blossoms, spring training baseball and Match Day for our Class of 2017! The uptick in activity and nervous energy on our campus was unmistakable, as another class of medical students found out where they will complete residency training.
Match Day is the day all medical students across the nation learn where they will spend the next several years on their journey to become practicing physicians.
We are immensely proud of our students, and that pride swelled upon seeing the happy faces of our students and their significant others on March 17. This year was particularly special, as we continue to celebrate the 10th anniversary of the College of Medicine – Phoenix and the impressive growth of our Phoenix Biomedical Campus.
For such a young medical school, our track record in matching our students has been impeccable: We have placed half of our graduates in primary care fields and matched into prestigious medical institutions in highly competitive disciplines. This year was no different.
Earlier this month, fourth-year students shared their Scholarly Projects, joining the college's more than 270 graduates on this remarkable experience. Like those that came before them, students in the Class of 2017 were extremely proud of this milestone in their life-long learning experience.
With Match Day now complete, I'd like to thank all the faculty, clinicians around the state and College of Medicine – Phoenix staff who have helped mold this class into exceptionally trained, compassionate MDs.
It truly was a wonderful Match Day.
Warmly,
Kenneth S. Ramos, MD, PhD
Interim Dean
University of Arizona College of Medicine – Phoenix