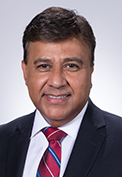 The UA College of Medicine – Phoenix is pleased to announce the appointment of Kenneth S. Ramos, MD, PhD, as Interim Dean. Dr. Ramos — who joined the University of Arizona Health Sciences in 2014 as associate vice president for precision health sciences and director of the Center for Applied Genetics and Genomic Medicine — assumed the role on April 18, 2016.
Joe G.N. "Skip" Garcia, MD, UA senior vice president for Health Sciences, appointed Dr. Ramos to the position following the departure of longtime dean Stuart Flynn, MD, who spent the last eight years helping to build the critical foundation of the medical school. Dr. Flynn accepted a position at a new medical school to be jointly run by Texas Christian University and the University of North Texas Health Science Center in the spring of 2016.
Moving forward, Dr. Garcia notes that, "Dr. Ramos possesses all of the qualities essential for serving in this important interim leadership capacity. He is an academician of the highest caliber, having been elected to the National Academy of Medicine this past October. He has a depth of experience across the tripartite mission areas of education, research and clinical service, is a thoughtful listener and a consensus builder." In addition, Dr. Ramos' history with and knowledge of the College and UAHS programs on the Phoenix Biomedical Campus will help ease his tranisition into the day-to-day operations of the campus.
Dr. Gracia added, "I am grateful to Dr. Ramos for his enthusiastic willingness to serve in this important leadership role and support the smooth transition to the next permanent Dean of the College of Medicine – Phoenix. Please join me in welcoming Dr. Ramos into this interim role."
Brief Bio and Background
Dr. Ramos is internationally recognized in genomics and predictive biology, environmental and molecular medicine and toxicology. In his previous role, he was responsible for developing precision-health strategies and approaches to health outcomes and health-care delivery, as well as leading the development of personal diagnostics and therapeutics for complex diseases, including cancer, cardiopulmonary disorders and diabetes.
During his time as associate vice president for precision health sciences, he was part of the College of Medicine – Tucson faculty as a professor of medicine in the Department of Medicine, Division of Pulmonary, Allergy, Critical Care and Sleep Medicine.
Prior to assuming his duties with the University of Arizona, Dr. Ramos worked with the University of Louisville Health Sciences Center, where he served as distinguished scholar and professor in the Department of Biochemistry and Molecular Biology. He also was director of the Center for Genetics and Molecular Medicine and the Center for Environmental Genomics and Integrative Biology (a National Institute of Environmental Health Sciences core center) and chief scientific adviser for the Clinical Trials Laboratory.
He has also held faculty positions at Texas A&M University — where he was the Chester J. Reed Endowed Chair in Molecular Toxicology and oversaw the Department of Environmental and Occupational Health Sciences, School of Public Rural Health — Texas Tech University Health Sciences Center, Drexel University and the University of the Sciences in Philadelphia.
Over the course of his career, he has received more than $50 million in research funding, including R01, P01 and P30 grants; mentored 100 doctoral, medical, veterinary medicine, undergraduate and high school students; was the founding editor of Environmental Health Perspectives: Toxicogenomics, as well as been a member of 50 professional journal editorial boards; has been the lead author in more than 220 published scientific journal articles; has served on more than 35 science advisory boards and has given more than 400 professional scientific presentations for national and international audiences; and been a highly sought after expert reviewer for state, federal and international governments.
Dr. Ramos received his Bachelor of Science degree in pharmaceutical sciences and chemistry (with highest honors) from the University of Puerto Rico, his doctorate in biochemical pharmacology from the University of Texas at Austin, and his medical degree from the University of Louisville Health Sciences Center, where he received training in internal medicine and pulmonology.
Sabrina Romo is Dr. Ramos' executive assistant at the college. She can be reached at 602-827-2066.