Thursday, February 9, 2017
Welcome Francisco Lucio, JD, as our inaugural associate dean of Diversity and Inclusion
The University of Arizona College of Medicine – Phoenix is pleased to welcome Francisco Lucio, JD as our inaugural associate dean of Diversity and Inclusion.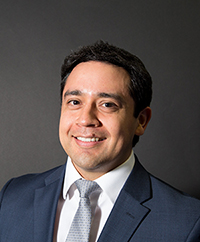 Mr. Lucio is responsible for the continued cultivation of a diverse, inclusive and equitable environment for all faculty, staff and students. His depth of experience will be a tremendous asset to the College, allowing us to play a crucial role in continuing to create an environment that is accepting of, and open to, individuals from all walks of life. It is this philosophy what defines greatness in an institution of higher learning, especially one dedicated to training the physician workforce for the state of Arizona and for improving the health of its citizens.
I greatly look forward to working with him and watching him apply his expertise and understanding to expanding our commitment of inclusion and equity on our campus.
Mr. Lucio previously served as the Director of Diversity and Inclusion at New York University School of Medicine, where he helped lead the development of key institutional diversity initiatives. While in New York he played a fundamental role in establishing a robust mentoring program for students, faculty recruitment and interview guidelines, as well as professional development programming for faculty, residents and staff.
Mr. Lucio's extensive pipeline program experience allowed him to successfully oversee two, $500,000 New York State of Education Department grant funded programs. These programs targeted the development of underrepresented and socio-economically disadvantaged high school and college students into the STEM fields. This is a major priority for our College and we look forward to building comparable programs here in Phoenix.
Mr. Lucio has served on multiple local and national boards aimed at increasing diversity of underrepresented students in the health fields. He obtained his Juris Doctorate from St. John's University School of Law, where he was the recipient of the American Bar Association, Health Law Section and National Bureau of National Affairs, Inc. Award of Excellence in the Study of Health Law.
As he prepares to complete his transition to Arizona this month, please help me welcome Mr. Lucio to our growing COM-P family!
Kenneth S. Ramos, MD, PhD
Interim Dean, College of Medicine – Phoenix
Associate Vice President for Precision Health Sciences
Categories