Wednesday, October 31, 2018
New Statewide Opioid Curriculum Expected to Be Implemented by 18 Graduate and Undergraduate Health Programs.
In response to the opioid epidemic, 18 undergraduate health educational and nurse practitioner programs in Arizona have developed a first-of-its-kind statewide curriculum that calls on all provider types to address the public health emergency.
On June 5, 2017, Gov. Doug Ducey declared a Public Health State of Emergency as more than two Arizonans were dying each day from opioid overdoses.
Educational leaders from 18 Arizona undergraduate health educational programs gathered and agreed that a change in education must be made. Over the course of four meetings, best practices were shared and educational theories, as well as national trends were reviewed.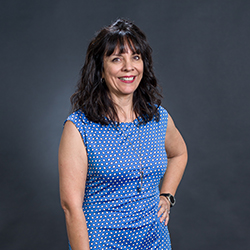 "Responsible diagnosis and management of patient signs and symptoms are paramount in the practice of medicine," Maria Manriquez, MD, said. "Pain being one of the most common symptoms of disease is important to evaluate carefully and treat responsibly."
Dr. Manriquez, interim associate dean for Clinical Curricular Affairs at the University of Arizona College of Medicine – Phoenix, was one of the faculty who represented the college in the curriculum planning. Others included Luke Peterson, MD, from Banner Family Medicine and associate program director of the college's Addiction Medicine Fellowship; Aram Mardian, MD, chief of the Chronic Pain Wellness Center at the Phoenix VA Health Care System. Dr. Mardian was the co-chair with Lisa Villaroel, MD, medical director for epidemiology and disease control for the Arizona Department of Health Services.
"Teaching future physicians and developing current physicians to understand alternative methods of management is important and when prescribing opioids for pain, to do so responsibly," Dr. Manriquez said. "The medical, dental and even veterinary community have to take a good look at their practices and appreciate that we are a part of the problem occurring in society, but we are also the best equipped to be a huge part of the solution."
The UA College of Medicine – Phoenix is currently undergoing an audit of its entire curriculum to identify where Opioid Action Plan curriculum already exists. The audit is being led by Cinda Stone, MEd, director of curricular management. The college already meets 43 of the 73 proposed statewide objectives.
"The College of Medicine – Phoenix is certainly at the forefront of providing this training," Dr. Manriquez said. "We have had a strong presence from our faculty for years, but we have room for improvement, especially in teaching learners to critically evaluate systems and seek evidence-based solutions in treatment of pain and opioid use disorders."
Dr. Manriquez said she believes the college is on a good pace to have all components implemented in the curriculum within the next year.
Programs Participating in Curriculum Development:
Learn more about the pain and addiction curriculum.
Categories