Tuesday, November 7, 2017
First-in-nation collaboration brings together law enforcement, medical community and researchers to assist domestic violence victims
A ground-breaking collaboration between law enforcement, the medical community and brain researchers will develop a better understanding, rapid identification and better treatment of concussions in domestic violence victims.
Jonathan Lifshitz, PhD, and Hirsch Handmaker, MD, both faculty at the University of Arizona College of Medicine – Phoenix, will lead the study along with Sgt. Mark Higbee of the Mesa Police Department, Erin Bertino, RN, from HonorHealth's Scottsdale Family Advocacy Center's Forensic Lab, and Hilary Weinberg of the Maricopa County Attorney's Office, Family Violence Bureau.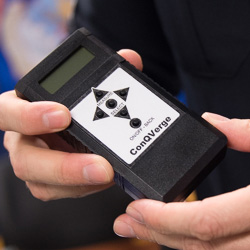 "We've put in a lot of sweat equity to get to this point," Dr. Lifshitz said. "In the end, we will be able to understand the scope by which individuals and victims of domestic violence are suffering from these traumatic brain injuries, determine which tools are useful in the diagnosis, define what strategies are useful in the rehabilitation, and we'll be able to report and extend those results to other states around the country."
The city of Mesa has about 200 domestic violence calls every week, and nationwide, 12 million women and men are victims of domestic violence each year.
Mesa Police Department officers who have been trained to use a small handheld device to measure oculomotor function, or eye tracking, of domestic violence victims, will gather the eye tracking information at the scene. That measurement, along with data from subsequent medical exams, will help identify abused individuals suspected of having a concussion. Victims will have the opportunity to receive appropriate and rapid medical care through a large network of collaborators and providers.
Study partners the CACTIS Foundation, HonorHealth, the Mayo Clinic, the University of Arizona-College of Medicine-Phoenix, Conquering Concussions LLC, and Barrow Neurological Institute at Phoenix Children's Hospital will analyze the eye movement data as well as information from the expanded medical exam at the Family Advocacy Center and follow-up exam at local concussion treatment clinics.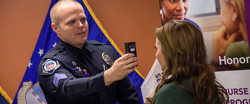 The Maricopa County Attorney's Office will develop best practices for enhanced apprehension and prosecution of the abusers who cause these injuries.
"Our first priority is obviously to get better treatment for these victims and get their lives back, but in the future, we are looking to access this information and see if the laws that we have in Arizona are sufficient to cover traumatic brain injury," Weinberg said. "By the end of the study, we can see if the criminal statute that we have captures the conduct of these types of cases and the types of injuries nurses are seeing over and over again."
Over the next year, the study will determine the frequency of concussions among domestic violence victims. The team has the objective to develop best practices from the data to improve the lives of victims.
"There were no programs addressing what to do once you know someone has sustained a concussion," said Dr. Handmaker, who is also chairman and CEO of the CACTIS Foundation. "Through this remarkable relationship with the Mesa Police Department, the Maricopa Attorney's Office and HonorHealth's Family Advocacy Center, we set forth to do something about this nationwide problem and look at the specific signs and symptoms of concussions."
Media Contact:
Teresa Joseph
(602) 827-2657
Categories