Tuesday, December 6, 2016
Five Ways the UA College of Medicine – Phoenix Reaches the Community and Beyond
At the University of Arizona College of Medicine – Phoenix, one of the main pillars of the college is to improve the well-being of the Arizona community and the world.
Below are just a few examples of how the college makes a positive impact on the health and education of people around the world, from Maricopa County to sub-Saharan Africa.
Community Health Initiative – Phoenix (CHIP)
CHIP is a student-led service learning program that allows medical students to volunteer in clinical care, health education and mentoring. There are nine clinical programs and 21 educational/outreach programs.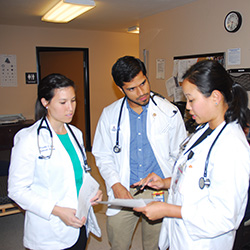 The programs include a student-run clinic at the Wesley Community and Health Center, a mobile health unit that provides free services to underserved populations and the New Hope Teen Pregnancy Program that allows students to teach childbirth classes to pregnant teens.
"Our CHIP programs are an excellent opportunity for our students to begin devoting their time to the health and well-being of others — before they've even listened to the first patient's heart beat or learned how to interpret lab results," said Stephanie Briney, MD, director of service learning at the college. "Many of our students have chosen to pursue medicine in order to care of others, and the CHI-P programs allow them to do that."
In 2016, student volunteer hours in CHIP programs increased by 5 percent from 2015 — with students completing 8,214 hours. Participation from the Class of 2020 in their first six months on campus is up 21 percent from previous first year classes. 
Youth Outreach
At the College of Medicine – Phoenix, a huge emphasis is put on educating youth in science, technology, engineering, mathematics (STEM) — and medicine. Throughout the year, the college hosts high school students as interns in the Basic Medical Sciences Department, as well as participants in Saturday and Summer Scrubs, where teens can explore their interest in becoming a physician. In addition, each year, the college hosts Connect2STEM, where more than 5,000 children and families learn about STEM through hands-on activities. This year, the event will take place on Saturday, Jan. 28, 2017 from 10:00 a.m. to 3:00 p.m.
Cameroon Partnership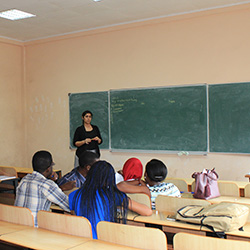 To reduce the maternal mortality rate in sub-Saharan Africa, the University of Arizona has partnered with the University of Buea in Cameroon to create a post-graduate training program for doctors in Cameroon. The partnership, which will begin in October 2017, was initiated by Mike Brady, MD, a clinical professor at the college.
"Child birth in other parts of the world is remarkably different than in the United States and in some places, it's 100 times more dangerous to have a child," Dr. Brady said. "The goal is to take excellent young doctors and train them in this specialty in Cameroon, and thus reduce mortality and morbidity in Sub-Saharan Africa."
Liberia Collaboration Agreement
The University of Arizona signed a Memorandum of Collaboration this fall to develop programs that could send UA-trained health care professionals to Liberia. A 15-year civil war destroyed the west African country's infrastructure, including most hospitals and clinics. A democratic government was elected and rebuilding began, but then the Ebola crisis struck and more than 4,000 Liberians died, including most of the physicians and nurses.
"This bilateral relationship between the Colleges of Medicine (in Phoenix and Tucson) and the University of Liberia will allow both parties to identify, access and improve the quality of care, education and research," Dr. Beyda said. "This is important to the College because of our commitment to serve those who seek help and ensure the quality of health care across the world is the best that can be given."
The program is expected to help train medical students, nurses and other health care providers at the University of Liberia.
Media Contact:
Teresa Joseph
Phone: 602-827-2657
Categories