Saturday Scrubs Program Offers Unique, Year-Round Opportunity for Students Throughout Arizona
Each year, Valley high school students get a taste of medical school with Saturday Scrubs, a monthly program sponsored by the University of Arizona College of Medicine – Phoenix. This year, more than 300 students took advantage of the program, which features hands-on activities taught by medical students and physicians.
It's a free program designed to inspire Arizona high school students to explore their interest in becoming a physician. In May, 82 participants were recognized at an end-of-the-year celebration for attending five or more sessions.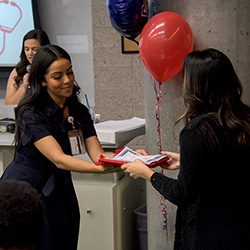 The year-long program takes its roots from Summer Scrubs — a week-long summer camp that gives high school students across Arizona the same behind-the-scenes exposure to medical school.
​Ayleen Martinez, coordinator of the Scrubs Academy programs, said students love the opportunity to experience the activities year-round.
The sessions are so popular that monthly registration fills up within the first 30 minutes. "Every session, I am amazed at how engaged these high school students are," she said.
Over the course of the academic year, the participants were guided through 10 sessions, including pathology, basic life support, kidney filtration and radiology. Each session was taught by a College of Medicine – Phoenix faculty member or a Banner – University Medicine resident, Martinez said.
Matthew Navarro will be a senior in August at Verrado High School in Buckeye and was recognized at the closing ceremony for attending five or more sessions. "The instructors were so knowledgeable," he said. "I have been interested in the medical field for a long time, and the ability to help other people is intriguing to me."
Nicole Falls, an incoming senior at Desert Mountain High School in Scottsdale, has been attending Saturday Scrubs since its inception and said the hands-on experience is always her favorite part. "It's so much more than what I expected. It's a great opportunity to show that you love medicine. It can also help you decide if this is the right career path for you."
Second-year medical students Jaimei Zhang and Eyal Ron mentored the participants throughout the program. "It has been a rewarding experience for us, and it's been a lot of fun seeing their enthusiasm for medicine at a young age," Zhang said.
Glen Fogerty, PhD, interim assistant dean for Admissions and Recruitment, had words of wisdom for the parents in attendance and the high school students at the end-of-year celebration: "Keep doing what you are doing. Go out there and find shadowing opportunities. Do everything you can to find exposure to this field."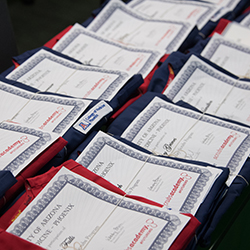 Sara Worke, who will be a junior at South Ridge High School in Phoenix in the fall, said she has always wanted to pursue a career in the medical field and did not know she could get exposure to it in high school. "I learned leadership skills, how to communicate with others, how to learn new things and continually enjoy learning," she added.
Joey Herzog, who attends BASIS Phoenix, said he was not expecting to see real human organs and recommended the program for anyone interested in medicine, "Definitely do this program because it allows you to see if you would like this career."
Saturday Scrubs gives students an opportunity they will not forget, and one that will help guide them in making their future career decisions. Jesus Peralta, a junior at AAEC South Mountain, said the program offered more than learning, "I had fun, I made friends and I got to meet people that have similar interests."
Registration for the first Saturday Scrubs session of the fall, August 12, will open on July 10. The program accepts 100 students per session and sessions fill up quickly. For more information, check out the Saturday Scrubs program page.
Article by: April Fischer
Media Contact
Marian Frank
Associate Director, Public Affairs
Phone: 602-827-2022
Categories