UA College of Medicine – Phoenix Community Lecture Series Shares Stories Not Being Told
After experiencing a traumatic accident during his third year of an orthopedic surgery residency at Yale – New Haven Hospital, Oluwaferanmi "Feranmi" Okanlami, MD, MS, has helped others with disabilities. Now, he is on a mission to "disabuse disability" by proving that disability doesn't necessarily mean inability.
Dr. Okanlami shared this message March 18 at the University of Arizona College of Medicine – Phoenix. The free presentation was open to the community as part of the inaugural Inclusive Excellence Speaker series organized by the college's Office of Diversity and Inclusion.
"There is so much in this world that we do not know because we have not experienced it," Dr. Okanlami said. "As an ex-athlete, as an orthopedic surgeon, as a physician that took care of people with spinal cord injuries, I did not know much about what the world of spinal cord injuries outside of the hospital. A lot of this is still new to me, and I'm still learning about it. This is why I am honored and flattered for the opportunity to come to speak to others about my experience."
Dr. Okanlami — an assistant professor in the Departments of Family Medicine and Physical Medicine and Rehabilitation, as well as director of Medical Student Programs in the Office for Health Equity and Inclusion at the University of Michigan — discussed the "Intersections of Disability and Medicine."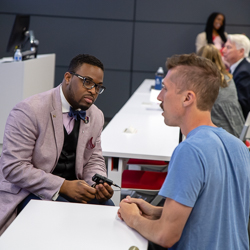 "In health care, our job is to take care of people when they are unwell and to treat people who may have disabilities," Dr. Okanlami said. "Why then, would we not include that same population in the care that we render to patients? These individuals could provide experiences and perspective that others would not be able to have."
During a Fourth of July gathering with fellow residents, Dr. Okanlami jumped into a pool and broke his neck. He suffered a spinal cord injury that paralyzed him from the neck down. After two surgeries and intense rehabilitation, he regained some motor function. He said one of the most amazing days of his life was Sept. 8, 2013, when he moved his leg for the first time since the accident.
Dr. Okanlami did not let his disability define what he could and couldn't do. He completed a family medicine residency at Memorial Hospital in South Bend, Indiana. He also earned a master's degree in engineering, science and technology entrepreneurship at the University of Notre Dame.
"I like to use the phrase, assume competence," he said. "Rather than assuming what someone can't do, let them show you what they can do. If we allow people to come and demonstrate what they can do, then we will realize that there are people that are going to have an immense impact on medicine and medical education that you would have missed if you didn't include them."
Dr. Okanlami received his undergraduate degree in humanities from Stanford University, where he was an academic All-American athlete in track and field and team captain for two years. He graduated from the University of Michigan Medical School in 2011.
One of his passions is adaptive sports, which allow individuals with all levels of ability to still engage in physical activity at all competitive levels. He has created and serves as the director of an adaptive sports program at the University of Michigan.
An inspirational speaker, Dr. Okanlami dreams of creating a "completely accessible and inclusive health system for patients and providers with disabilities."
"In medicine, we have the unique opportunity to reach people from all levels," Dr. Okanlami said. "If we can disseminate this message that everybody has something to contribute even if there are things that make it more difficult for them, even if there are things that need to be accommodated for them, and even if there are things that are easier for someone else to do. This doesn't mean they don't deserve to be there."
He added, "There is a stigma that exists that people who do not want to know, ask for help. That stigma exists because of what we end up creating as a culture. Asking for help is not a weakness, being different from someone else doesn't make you less than them and providing resources to people doesn't give them an unfair advantage."
Categories