UA College of Medicine – Phoenix Offers Community Lecture to Prove Disabled Does Not Mean Unable
After suffering an accident during his third year of an orthopedic surgery residency at Yale – New Haven Hospital, Oluwaferanmi "Feranmi" Okanlami, MD, MS, made it his life's mission to help others with disabilities. Now, Dr. Okanlami is striving to "disabuse disability" by proving that disability doesn't necessarily mean inability.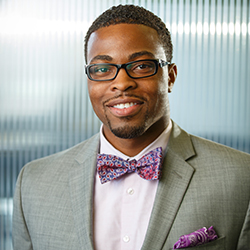 On Monday, March 18, Dr. Okanlami will share this message at the University of Arizona College of Medicine – Phoenix. The free presentation is open to the community as part of the inaugural Inclusive Excellence Speaker series organized by the college's Office of Diversity and Inclusion. The event is from 5:30 pm to 7:00 p.m.
"This lecture is for anyone in the community that values diversity, supports disability, is interested in adaptive sports or likes engaging and interactive discussions," Dr. Okanlami said. "I invite anyone who has a desire to change the way we treat each other inside and outside of the health care system, especially with respect to underrepresented and marginalized groups."
Dr. Okanlami, an assistant professor in the Departments of Family Medicine and Physical Medicine and Rehabilitation, as well as director of Medical Student Programs in the Office for Health Equity and Inclusion at the University of Michigan, will discuss the "Intersections of Disability and Medicine."
During a Fourth of July gathering with fellow residents, Dr. Okanlami jumped into a pool and broke his neck. He suffered a spinal cord injury that paralyzed him from the neck down. After two surgeries and intense rehabilitation, he regained some motor function. He said one of the most amazing days of his life was Sept. 8, 2013, when he moved his leg for the first time since the accident.
Dr. Okanlami did not let his disability define what he could and couldn't do. He completed a family medicine residency at Memorial Hospital in South Bend, Indiana. He also earned a master's degree in engineering, science and technology entrepreneurship at the University of Notre Dame.
He received his undergraduate degree in humanities from Stanford University, where he was an academic All-American athlete in track and field and team captain for two years. He graduated from the University of Michigan Medical School in 2011.
One of Dr. Okanlami's passions is adaptive sports, which allow individuals with all levels of ability to still engage in physical activity at all competitive levels. He has created an adaptive sports program at the University of Michigan.
"Every action, every decision, every instance in someone's life sets off a ripple effect in ways that you can't really tell the downstream consequences of one specific event," he said in a video by Guardian Life. "When asked at times if there's anything I would change, I can't say that I would."
An inspirational speaker, Dr. Okanlami dreams of creating a "completely accessible and inclusive health system for patients and providers with disabilities."
Categories