Tuesday, February 28, 2017
Simulation Scenarios at the Heart of Advanced Critical Care Conference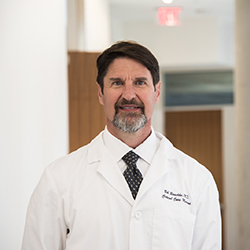 Physicians, fellows and nurse practitioners from across Arizona participated in an intensive two-day training that simulated patients in crisis at the University of Arizona College of Medicine – Phoenix Center for Simulation and Innovation.
Robert Raschke, MD, MS, who organized the conference, said the goal was to improve patient safety.
"Most medical conferences focus on diseases. This conference focused on patients in life-threatening situations," said Dr. Raschke, clinical professor of Medicine and Biomedical Informatics at the college. "We're using hands-on workshops and high-fidelity simulations of actual patient cases to train teams of doctors and nurses to deal with some of the most dangerous situations they will encounter."
The conference focused on clinical situations of highest concern to bedside intensivists, including emergency evaluation of a patient in shock with an unclear cause, an obstetrical code arrest and a person in respiratory distress.
"These are the things that give us nightmares, but now we can get prepared to do the right thing by using simulation," Dr. Raschke said. "It could make the difference between life and death for a patient."
In addition to scenario training in the simulation center, the 78 attendees learned ultrasonography using UA College of Medicine – Phoenix students as patients, as well as an emergency procedure to obtain an airway when other routine methods have not worked in the college's gross anatomy lab.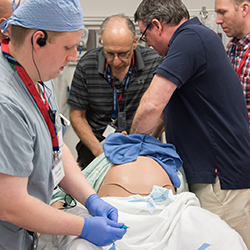 One of the simulation trainings was based on a patient of Dr. Raschke's, who had cardio pulmonary arrest during pregnancy. She had a series of other complications, including severe bleeding that was life threatening and required prolonged surgery. Eventually, a huge embolism blood clot was discovered in her heart. In the end, it had a happy ending with the patient surviving; looking back, though, Dr. Raschke said it was a miracle.
"Dr. Raschke has broken new ground with this conference," said Cindy Anderson, chief operating officer of the college's Center for Simulation and Innovation. "No one has done high-fidelity intensive simulation training like this, including the level of intensity being taught and how it's being implemented. Typically, you don't get this type of hands-on experience."
The conference was funded by Banner Health Risk Management to lower the incidents of loss and risk. Dr. Raschke, who is also the medical director of simulation at Banner – University Medical Center Phoenix, hopes that these trainings will help physicians be in a position to immediately save a person's life who has an obstructed airway or a cardiac arrest.
Physicians from Banner – University Medical Center Phoenix, Banner – University Medical Center Tucson, UA College of Medicine – Phoenix and UA College of Medicine – Tucson assisted in the training.
"As physicians, we are lifetime students and lifetime educators," said Ari Yeskel, MD, a conference attendee. "Anything you can do to improve your clinical skills and clinical expertise to benefit your patients is worth it. This is a conference everyone could benefit from."
The conference took place in the Simulation Center's 33,000-square-foot facility, one of the largest simulation facilities hosted within a university in the U.S. The center opened in July 2012 and is a flagship for the University of Arizona and the downtown Phoenix Biomedical Campus.
"This conference allowed us to stretch and expand, making our amazing center open to the medical community," Anderson said. "This was the very first time that our simulation team has partnered in the truest sense of the word with Banner University Medical Center – Phoenix and Tucson, and the College of Medicine – Tucson. It was truly collaborative."
Media Contact:
Teresa Joseph
Phone: 602-827-2657
Categories