Global Health Interest Group Sponsors Fundraiser for Students
Sixteen medical students and four faculty members from the University of Arizona College of Medicine – Phoenix left in May 2017 for a weeklong trip to the Dominican Republic, where they provided health care to more than 100 patients each day in rural communities.
The trip is offered twice per year with the goal of establishing a primary care clinic in several villages and creating relationships with the local health care system and doctors. The next trip is scheduled for May 26 to June 3, 2018.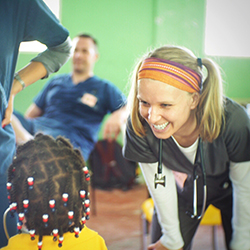 "This is such an eye-opening experience for students to see how poor other parts of the world can be," said Global Health faculty mentor and College of Medicine – Phoenix professor Dawn Barcellona, MD. "A trip like this allows students to see how difficult it can be for some people to access medical care in other parts of the world. They see first-hand that patients have real illnesses and real issues that they can't access care for because they lack adequate resources."
David Beyda, MD, director of the Global Health Program and chair and professor in the Department of Bioethics and Medical Humanism at the college, has been organizing trips to the Dominican Republic since 2010.
Medical students who travel to the Dominican Republic must pay for their own travel. The trip costs about $1,500 per student.
To aid that cause, the Global Health Interest Group held its annual fundraiser on April 7, 2017, at the Rock Bar, 4245 N. Craftsman Court, Scottsdale, 85251. The Flippin' Switches performed. The money raised was used to help send medical students on the trip.
During the Dominican Republic trip, students traveled to four farming villages, or bateys, where they set up mobile clinics in community buildings and backyards. Students in triage took vitals such as blood pressure, pulse, temperature, height and weight. They then took patient histories, performed physical exams and dispensed medications in a pharmacy. Teams of students and faculty also conducted home visits for patients unable to travel to the clinic.
Second-year medical and public health student Leslie Appleton, who traveled to the Dominican Republic in the fall of 2016, said the residents were so grateful to have someone listen to them.
"They didn't care if we couldn't cure them; they were appreciative that we were just there," she said. "It really reminded me of why I want to go into medicine and how much of an impact we can have on someone's life. Some of the best experiences coming out of the trip were things as simple as giving a patient a pair of reading glasses, so they could see clearly again. It's really special to get to see that and know that you were a part of that."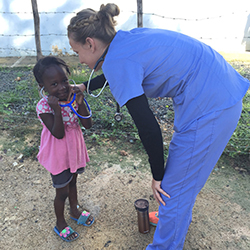 The trips, which are open to all medical students, are organized by the student-run Global Health Interest Group. Priority is given to students in the Global Health Certificate of Distinction program, as it is required for these students to travel abroad on one of the program's trips during their first- or second-year.
Second-year medical student Brandon Ford is one of the students working toward a Global Health Certificate of Distinction. He traveled to the Dominican Republic in the fall.
"My favorite part of the trip was going out into the bateys and helping everyone and anyone in need regardless of social status, age or sex," Ford said. "To have two different patients who complained of headaches from vision-related issues leave with the biggest grins on their faces because they could finally see properly, or when we did school physicals to over 150 children who — whether sick or healthy — came in happy and jovial, it's these experiences that I think truly shape what type of physicians we are going to be."
Dr. Barcellona said that, from a physician perspective, the greatest experience for the students is getting to listen to patients and provide care to the world's most needy.
"Our students get to take the time to listen to their stories and make them feel cared for, loved and respected as a human," she said.
Media Contact:
Teresa Joseph
Phone: 602-827-2657
Categories