Michelle Dorsey, MD, Recognized for Work as White House Fellow
Michelle Dorsey, MD, has been recognized with a Service to the Citizen Award for her work in the White House Leadership Fellowship program.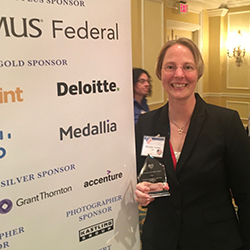 Dr. Dorsey, chief of Radiology at the Phoenix VA Health Care System and a clinical assistant professor in the Department of Radiology at the University of Arizona College of Medicine – Phoenix, is serving as the first Department of Veterans Affairs physician in the White House Leadership Fellowship program.
The service award was for her work in the White House Office of Management and Budget on the federal government's Customer Experience Cross-Agency Priority Goal Interagency Team. The goal of the Service to the Citizen: Champions of Change Program is to recognize public servants who demonstrate excellence in their delivery of services that impact the public's lives.
"I am very fortunate to contribute as a member of this amazing team as we strive to improve customer experience across the federal government," Dr. Dorsey said.
Customer service improvements made during the pursuit of this objective have the potential to impact millions of Americans in such areas as Medicare and Veterans Health Care, as well as airport security screening, emergency and disaster relief, federal student aid, national parks and passport services.
Dr. Dorsey's appointment as a White House Fellow began in October 2018 and ends in September 2019.
The White House Leadership Development Program, sponsored by the Executive Office of the President and supported by the President's Management Council and the Performance Improvement Council, harnesses the top talent across government to support the implementation of key priorities and addresses mission critical challenges, such as the Cross-Agency Priority Goals in the President's Management Agenda.
"We must act to make the VA a showpiece for innovation, developing cross-agency initiatives that enhance quality, veteran-centered care, innovative research and education," Dr. Dorsey said. "My participation in this program signals that we are moving in all ways forward. It is a tremendous honor, and I hope to make both my facility, the Phoenix VA, as well as the Department of Veterans Affairs proud."
Media Contact:
Teresa Joseph
Phone: 602-827-2657
Categories