College of Medicine – Phoenix Hosted the Annual Event to Raise Awareness about Heart Disease
Alyssa Thomas, a fourth-year medical student at the University of Arizona College of Medicine – Phoenix, was only 14 when her mother died of heart disease.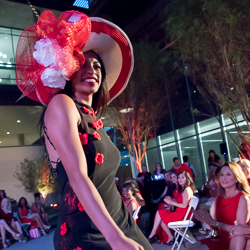 "It was hard because it was unexpected; everything was perfectly fine," Thomas said. "She never really had any illnesses; she was young and a cheerleading coach; there were no warning signs."
Thomas was one of the dozen models who walked the runway at the 9th Annual Red Dress Cocktail event at the college on April 12.
More than 200 women and men attended the event, which sought to build awareness about heart disease through fashion, friends, raffles and stories from individuals directly impacted by the disease.
The fundraiser, organized by the Red Dress Cocktail Party Team, raised money to support the Women's Center at Banner – University Medical Center Phoenix Heart Institute.
"This is a partnership we'd like to do long term," Maria Benson said. "The synergy between us and the University of Arizona is amazing, and the community will only grow from this point forward. The college has embraced this event in a way we never expected, and we couldn't be happier." 
Benson created the fundraiser nine years ago to raise awareness of a disease she lost three women in her family to, including her mother, grandmother and aunt.
"Looking back, we realized she was exhibiting symptoms long before she had a heart attack," Benson said of her mother. "Back then, there wasn't a lot of information about the signs of heart disease, and people weren't talking about how women had different symptoms than men. I feel like if we had known more, the outcome for my mother may have been different."
Heart disease is the leading cause of death in American women. Nearly twice as many women in the United States die of heart disease, stroke or other cardiovascular diseases compared to all forms of cancer, including breast cancer.
"This was a chance for us to be with the community and help translate what the Heart Institute is doing every day to every woman who was in that audience and to every man," said Martha Gulati, MD, division chief of Cardiology at the College and physician executive director for the Banner – University Medical Center Phoenix Heart Institute. "Lack of awareness is really one of the problems with heart disease. If we can get women to know if they are at risk for heart disease, we can change these numbers."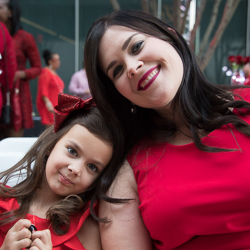 Individuals whose lives have been impacted by heart disease walked down the runway for the fashion show. They included volunteers, heart attack survivors and caregivers.
"To know it was all for a great cause just really made me feel great as I walked down the runway seeing everyone in their red dresses," Thomas said. "When I lost my mother to heart disease, I realized we all need to speak up and raise awareness, so we can help prevent those deaths in our family and friends."
Benson said next year, the goal is to double event attendance and continue to spread awareness about women's heart health.
"With the community we are building, every time somebody takes a photo, tweets or shares something, it spreads that message and builds awareness of heart disease," Benson said. "That was the beautiful part about this event. I saw tons of people taking pictures and snapchatting. They might think that's just a photo, but we know that they are spreading our message."
Dr. Gulati encourages women to watch her four-part video series, Heart to Heart, that's full of tips, advice and charm — all designed to bring awareness to heart disease.
Media Contact:
Teresa Joseph
Phone: 602-827-2657
Categories