Jason Schechterle Discusses Patient Point of View with Capstones Class
For more than five years, retired Phoenix Police Officer Jason Schechterle has spoken to University of Arizona College of Medicine – Phoenix medical students about his story of overcoming adversity.
"You have a chance to learn several things from my story," he told students during a Capstones class in March. "It symbolizes the simple fact of life that adversity is constant; it's evolving; it's good; it's bad; and we all are facing something."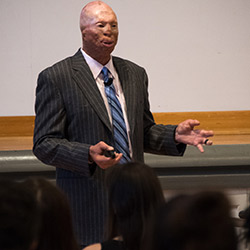 Schechterle shared his story of mental and physical triumph over pain and disfigurement and the integral role of his relationships with the medical professionals who saved him. His annual lecture is part of the Capstones course at the college that provides early clinical experiences for first- and second-year students and allows them to engage in reflective writing and discussion about those experiences.
On March 26, 2001, Schechterle was severely burned in the line of duty, when his patrol car was rear-ended by a taxi traveling more than 100 mph. The car was engulfed in flames with temperatures exceeding 1,000 degrees. He suffered fourth-degree burns over 40 percent of his body and was not expected to survive.
"I knew nothing about adversity, especially life-changing adversity," he said. "I was incredibly lucky, but it also made me the least-prepared person in the world to face what I was about to face. But that's the thing about adversity and life change, it doesn't tap you on the shoulder and say, 'Hey, in about four hours, this is what is going to happen to you.'"
Schechterle discussed his journey, including the two and a half months he spent in a coma, and the 54 surgeries he has endured.
"Recovery wasn't even one day at a time, it was one hour at a time," Schechterle said. "Every time I went to a surgery, something got a little better. Every time I went to therapy, I got a little stronger. You just keep putting one foot in front of the other, and you keep recognizing that each day stuff comes up; and whether you want it to or not, it's still going to happen."
Schechterle advised students to not forget who they are today, how they feel right now and how difficult it was to get into medical school. He said to always remember that the first patient and last patient of the day are just as important, as you may be their last hope.
First-year medical student Dylan Sabb said the presentation was impactful.
"His story is incredible, as is his resilient sense of humor and optimism," Sabb said. "Yet beyond his particularly tragic story, there was an important opportunity for reflection and self-exploration. As a future physician, hearing stories about both successful and unfortunate physician-patient interactions allows me to actively direct my training to maximize the positive impact I have on my patients and their families."
Director of Capstones Jennifer Hartmark-Hill, MD, said Schechterle's talk is placed in the first-year curriculum to emphasize the importance of patient perspectives in healing and the value of the inter-professional team.
"We hope to promote perspectives of resilience in the face of adversity early in our students' training," she said.
All first-year students have a writing assignment based on Schechterle's talk, so they can further reflect on their own journey and identity as future physicians.
"Jason's story has universal application," said Erin Nelson, PsyD, director of the Behavioral and Social Science theme. "His message transcends context and is truly relevant for every person lucky enough to hear him speak. That said, in our case, he is perfectly suited to connect with our students personally and professionally. He conveys the power of the relationship between a patient and his or her treatment team. He is able to capture the essence of empathy, vulnerability, strength and hope all at once. It is my hope that our students will be inspired by his journey and also by the opportunity to see, hear and feel, from a patient's perspective, the absolute power of compassion and teamwork in patient care."
Media Contact:
Teresa Joseph
Phone: 602-827-2657
Categories