Wednesday, March 29, 2017
BMS Researchers Receive Highly Competitive Grants to Combat Autism and Addiction
Two researchers from the University of Arizona College of Medicine – Phoenix were selected for prestigious, three-year grants offered by the Arizona Biomedical Research Commission (ABRC) to pursue important research that will impact Arizona and beyond.
Deveroux Ferguson, PhD, and Shenfeng Qiu, PhD, both assistant professors in the Department of Basic Medical Sciences, received highly competitive grants for their research.
Deveroux Ferguson, PhD
Cell-Type Specific Role for Sirtuin Signaling in Cocaine Addiction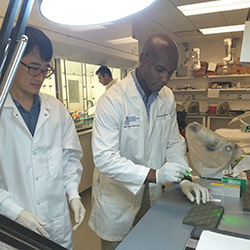 Drugs of abuse exert a substantial public health and financial cost to society and up to 10 percent of the population suffers from addiction and need treatment, according to Dr. Deveroux Ferguson.
"The state of Arizona is particularly and significantly affected by the challenge to contain the growing drug epidemic," he said. "This application focuses on ABRC's strategic mission to identify and develop innovative approaches to improve the health of all Arizonans."
Dr. Ferguson was provided a three-year grant for $75,000 per year that will provide additional preliminary data to apply for a $1.5 million R01 grant from the National Institutes of Health (NIH). His laboratory has provided evidence for the involvement of the protein SIRT1 in cocaine reward.
His research demonstrates that chronic administration of cocaine increases SIRT1 expression in the NAc, an area of the brain responsible for reward, and viral-mediated over-expression of SIRT1 in the NAc enhances the rewarding effects of cocaine. In contrast, the local knockdown of SIRT1 decreases drug reward.
"The objective of this project is to examine the cell-type specific induction profile on SIRT1 after exposure to chronic cocaine abuse using cell-type specific ChIP-sequencing, transcriptomics and immunohistochemical approaches in D1 or D2 neurons in the nucleus accumbens," he said. "We will test the hypothesis that chronic cocaine administration regulates SIRT1 gene signaling preferentially in D1 neurons."
Dr. Ferguson became interested in this research while living in New York City and observing the power of substance abuse to destroy communities and families. Estimates indicate that the total cost to society in the U.S. ranges from $600 billion annually, and one in every 100 deaths among adults is attributed to illicit drug use.
Shenfeng Qiu, PhD
A Translational Research Program on Autism in Arizona
The funded project for Dr. Qiu is to support establishing a unique translational research program on autism in Arizona. The Qiu lab is interested in the general field of brain development and how neurodevelopmental disorders, such as autism, arise.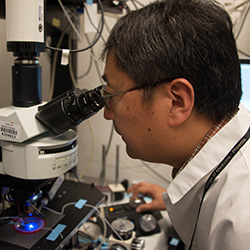 "A better understanding on autism-risk genes, molecules, brain cell types and connectivity will inform targeted therapeutics and behavioral interventions in autism patients," Dr. Qiu said. "The diagnosis of autism in Arizona is one in 64 children."
Dr. Qiu was provided a grant for three years, at $75,000 per year, that will fund one new research project on the role of a protein called UBE3A, which is involved in a severe neurodevelopmental disorder called Angelman syndrome.
His lab will study how UBE3A affects normal brain development and how its disruption leads to autism-related brain pathology.
"I am very excited and looking forward to the highest quality of work in neuroscience," Dr. Qiu said. "I believe it is a good investment by the ABRC for the future biomedical research in Arizona."
Dr. Qiu became interested in neurodevelopmental disorders during his post-doctoral training and was supported by an NIH rare disease clinical research network fellowship grant. At that time, he met with several Angelman syndrome kids and family members and was fascinated by the disorder. "I hope we can find a cure someday in the future," he said.
"To treat or reverse brain pathological changes in neurodevelopmental disorders is a big challenge," Dr. Qiu said. "While other research efforts have focused on restoring the UBE3A expression in the patient brain, clinical trials based on this premise have been shown ineffective. We propose to utilize a novel approach to restore brain cells' protein homeostasis, which is promising to Angelman syndrome and other autism spectrum disorders as well."
Media Contact:
Teresa Joseph
Phone: 602-827-2657
Categories