UA Phoenix Selects First Cohort of Scribes to Better the Quality of Physician-Patient Interactions
The University of Arizona College of Medicine – Phoenix's Primary Care Medical Scribe Program has accepted its first cohort of scribes to improve the care and efficiency in the primary care setting.
The Primary Care Medical Scribe Program began as a partnership between the college's Departments of Internal Medicine and Family, Community and Preventive Medicine to provide opportunities for early exposure to primary care, enhance the quality of physician-patient interactions and reduce the amount of time physicians spend on administrative tasks.
In February 2019, four scribes were accepted into the first cohort. They work a combined total of 9.5 days each week with 14 academic primary care physicians. The scribes have spent more than 1,000 hours working in clinics.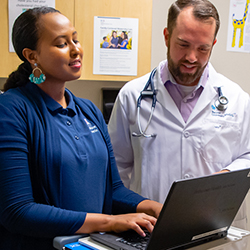 "I am constantly receiving feedback from the physicians and scribes about how wonderful the experience has been," Jacob Anderson, DO, said. "Multiple physicians have commented to me about what a game-changer it is in their ability to provide care for their patients. Some that were spending hours after clinic sessions are now only spending minutes to finish notes. We have an amazing and dynamic group of scribes, and they have all really embraced their roles as part of the primary care team."
Dr. Anderson, an assistant professor in the Department of Family, Community and Preventive Medicine, and Emily Mallin, MD, an associate professor and director of education for the Department of Internal Medicine, direct and founded the Scribes Program. Family medicine physicians are spending as much as 20 percent of their time after-hours, from 6:00 p.m. to 6:00 a.m., on administrative tasks. Additionally, residents are spending between 60 to 90 minutes per patient on administrative tasks for 20 to 40 minutes patient visits. This has led to a lack of connection in the doctor-patient relationship and contributes to physician burnout.
Together with the physicians, the scribes have participated in patient visits in the Family Medicine Clinic and Internal Medicine Clinic at Banner – University Medical Center Phoenix. The program is surveying patient satisfaction to see the impact of scribes on the overall satisfaction of a patient's visit.
"We have successfully recruited an incredible first cohort of scribes that are highly motivated, curious, thoughtful and enthusiastic," Dr. Mallin said. "The faculty members who have worked with our scribes have been impressed by their work ethic and desire to learn. Overall, the initial success of program implementation has exceeded all of our expectations."
Primary care scribe Amal Arif said she has found the experience rewarding and looks forward to coming into the clinic each day. Scribes have the ability to assist with charting, recording laboratory and radiology results, as well as supporting physician workflow with EHR data entry. Scribes have long been used to assist in emergency medicine, urology and cardiology care settings, but they have not been incorporated in a significant way in the primary care setting.
"I would recommend this program to any individual interested in a career in the medical field," Arif said. "With the current primary care physician shortage, this program truly provides a unique clinical experience into the world of primary care medicine for pre-health students by providing early exposure to medical terminology, physician workflow and the impacts of social determinants on the health outcomes of vulnerable populations, which will hopefully serve them throughout their medical education and beyond."  
Meet the Primary Care Medical Scribes

Kat Bien is interested in obstetrics and gynecology and hopes to provide better medical care to those who face restricted access based on zip code, skin color, gender identity and life choices. She wanted to become a scribe to gain mentorship, experience and education in primary care. She hopes to refine her active listening skills to learn how to facilitate meaningful physician-patient interactions in her future career. Bien graduated from Leading Edge Academy in Gilbert, Arizona.

Tanner Whiting recently graduated from Arizona State University with a bachelor's degree in Kinesiology. He is the youngest of six children and was born and raised in Mesa, Arizona. Whiting was previously a scribe and enjoyed the experience and exposure. He was excited about the opportunity to scribe in a primary care setting and to help physicians be able to better serve their patients. Whiting graduated from Mesa High School in Mesa, Arizona.

Aman Asrat is a first-generation immigrant from Eritrea. He has spent most of his life in Arizona and earned a double degree in psychology and philosophy from the University of Arizona. He hopes to become a pediatrician and eventually move back to his home country of Eritrea to teach other students in medicine. Asrat wanted to become a scribe to gain a deeper understanding of the day-to-day workflow of a physician. Asrat graduated from Mountain Pointe High School in Phoenix.

Amal Arif is originally from Somalia, but has lived in Phoenix for 21 years. She graduated with degrees in social work and public policy from Arizona State University. Arif hopes to become a primary care physician working in underserved communities in Arizona. She wanted to be a scribe to help prepare her for the rigors of medical school and a career in primary care. Arif graduated from North High School in Phoenix.

The program was made possible through the support of faculty and funding from the Del E. Webb Foundation. A second cohort of medical scribes will be recruited over the summer to join the program in fall of 2019.
Media Contact:
Teresa Joseph
Phone: 602-827-2657
Categories