Sophie Loeb Receives Scholarship for Commitment to Jewish Values and Community Service
Raised in a tight-knit, Jewish community, second-year medical student Sophie Loeb has a strong commitment to care for those in her own backyard.
"I aspire to provide others the opportunity to experience the near-miracles I've been so fortunate to bear witness to in my life thus far," she wrote in her application for the Shirley Curson Medical Scholarship from the University of Arizona Hillel Foundation.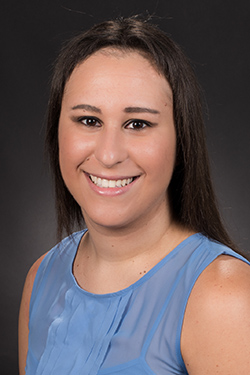 A second-year medical student at UA College of Medicine – Phoenix, Loeb's impressive background of both Jewish commitment and community service led to her selection for the Hillel Foundation medical scholarship. The award is designed to recognize the demonstrated commitment of a student, both prior to medical school and in their first years of medical school, to Jewish values and service, as well as to community service.
"Being Jewish is just a part of who I am as an individual," Loeb said. "I take pride in my faith and believe so many of the values I possess as a human being come from my upbringing and being raised Jewish. One of the most important Jewish values to me is that of performing acts of loving kindness. As a physician, I hope to hold true to this and treat each patient with the intent of performing these acts."
The merit-based scholarship is to help fund Jewish second-year medical students attending the UA College of Medicine in Phoenix or Tucson. An anonymous donor provided the funds for the scholarship available through the Hillel Foundation.
"I am truly humbled to be the recipient of this scholarship," Loeb said. "I received the news that I had won the scholarship while we were sitting in an afternoon lecture. I'm pretty sure I started to tear up, and I called my parents as soon as we had a break in the lecture. I still don't think it has fully sunken in yet, but I'm so grateful to be able to represent my school and my Jewish community in this way."
The scholarship will apply to the scholar's third- and fourth-years of medical school.
"Sophie Loeb was selected by the Committee members from among several qualified and exemplary candidates in recognition of the demonstrated breadth and depth of her commitment to both Jewish values and service and community service," Hillel Board Member Nancy Koff said. "The committee members felt that Ms. Loeb is an exemplar of the Jewish medical student that the Curson Scholarship was created to honor."
Loeb's desire to become a physician came from her need to help others and make a difference in her community.
"My initial interest in becoming a physician didn't stem from my love of science or the thrill of curing someone of a disease," Loeb said. "Although I want to use medicine to improve upon the world, my personal desire comes from my innate love of children and my involvement in families' lives. I want to be a part of peoples' lives and help them help themselves through long-term relationships with patients and families."
Prior to medical school, Loeb worked as an assistant teacher at a Jewish preschool and was a program supervisor for a camp at The Valley of the Sun Jewish Community Center. She has continued to help others within the Phoenix and Jewish community throughout her medical education by participating in Community Health Initiative – Phoenix programs such as the Juntos Por la Salud Mobile Health Unit that provides access to health services and promotes a healthy lifestyle to underserved people in Maricopa County. She also serves as the co-president of the College's Jewish Medical Student Association, which focuses on bringing together the Jewish medical students and faculty at the University of Arizona College of Medicine – Phoenix.
"While I do intend to practice here in Arizona after residency or at some point in my life, I know that I will, no matter where I am physically, be able to represent and reflect on the amazing Jewish community I have been, and will be, a part of," Loeb said.
Media Contact:
Teresa Joseph
Phone: 602-827-2657
Categories