Wednesday, March 15, 2017
College One of Only Four Medical Schools to Require a Longitudinal Scholarly Project
Medical students gathered at the University of Arizona College of Medicine – Phoenix earlier this month to present hypothesis-driven research projects that were four years in the making.
On March 8, at the annual Student Research Symposium, 83 students presented posters summarizing their Scholarly Projects. Six students were selected to provide oral slide presentations.
Fourth-year medical student Taylor Jenkins said she and her classmates worked hard to develop meaningful research projects that will "contribute to our medical community and hopefully lead to positive gains for our future patients as well."
College of Medicine – Phoenix students are required to complete a longitudinal Scholarly Project that is hypothesis driven and culminates in a final thesis. The project must be medically related, mentored and involve a research question, hypothesis and data collection.
"Throughout history, this sharing process is what often leads us to innovative ideas that have real-world applications," fourth-year medical student Joseph Liao said. "As physicians, we are fundamentally servants of the general population with the obligation to better understand disease processes and facilitate improvements in a management approach to provide our patients with the care they need and deserve."
Medical students pick their project and mentor based on their interests and career goals.
Matthew McEchron, PhD, director of Scholarly Projects and a professor at the college, said the Scholarly Project helps students learn about medical information literacy, teamwork, effective communication, research methods, evidence-based medicine approaches and ethics related to scholarly inquiry.
The student symposium included a keynote presentation by Mark Preul, MD, Newsome Family United Kingdom Endowed Chair of Neurosurgery Research and director of Neurosurgery Research at Barrow Neurological Institute.
"It's important as a physician to have a sense of questioning and introspection in order to provide the very best care for the patients," Dr. Preul said. "Physicians constantly need to be aware of the latest progress in medical care or science that may affect their ability to deliver care."
We asked three students — Joseph Liao, Taylor Jenkins and Brent Page — to explain their projects.
Joseph Liao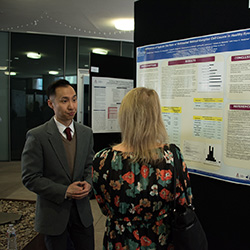 Liao's study focused on how aging affects the rate of retinal ganglion cell (RGC) loss. RGC makes up the optic nerve that connects visual input to the part of the brain that interprets images.
"My objective was to partake in research that affects the population at large and has the potential to yield valuable results that impact medical management," he said.
The project was part of Liao's research fellowship in geriatrics through the University of California San Diego (UCSD) Medical Student in Aging Research program in conjunction with the American Federation for Aging Research and the National Institutes of Health.
Liao's mentors included Felipe A. Medeiros, MD, PhD, at UCSD Shiley Eye Center, Carolina Pelegrini Barbosa Gracitelli, MD, PhD, at the Federal University of Sao Paulo, and Dilip V. Jeste, MD, at UCSD Stein Institute for Research Aging.
"With a historically unprecedented increase in life expectancy, we have to study aging processes in order to properly care for our aging population," he said. "Age should be taken into account when we estimate RGC counts to more accurately differentiate between pathological and non-pathological losses from normal aging."
Taylor Jenkins
Jenkins' project sought to determine whether brain biomarkers, or proteins, are altered as a result of a traumatic brain injury.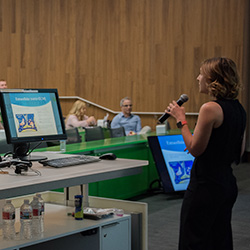 "There is very little that can be done in an emergency room setting to objectively evaluate mild to moderate traumatic brain injuries such as concussions," Jenkins said. "Consider that, when we suspect someone has had a heart attack, or myocardial infarction, we can do blood tests to check for certain proteins such as troponins to confirm our diagnosis. No such test exists for brain injury. We wanted to look at different areas of the brain and evaluate whether the amount of specific proteins in the extracellular matrix, or the glue that holds the different parts of the brain together, increase or decrease at various time points after a simulated traumatic brain injury."
Jenkins' mentors included Jonathan Lifshitz, PhD, director of the Translational Neurotrauma Research Program and associate professor at the college, and Daniel Griffiths, senior lab technician in Dr. Lifshitz's lab.
"Although more research needs to be done to determine clinical utility, we found significant differences in ECM molecules over time post-injury and across brain regions," Jenkins said.
Brent Page
Page's project examined whether intervening early after a diagnosis of Parkinson's disease with a six-month comprehensive wellness program was practical and whether the program had an impact on patient-reported quality of life and mobility.
Page's mentors for the project were Holly Shill, MD, director of the Muhammad Ali Parkinson Center at Barrow Neurological Institute, Paul Kang, MPH, a statistical advisor at the college, and Dr. McEchron.
"Their collective mentorship, advice and encouragement was key to my growth as a medical student researcher and to the success of this project," Page said.
The wellness program they created was comprised of group format, Parkinson's-specific exercise classes, which were led by an instructor, and an educational lecture series designed to provide patients with basic information about the disease. The research found that comprehensive wellness intervention in early Parkinson's is practical and effective in positively impacting patient mobility and quality of life.
"The Scholarly Project allowed me to gain confidence in the fundamental components of clinical research," Page said. "Additionally, I feel much more confident in my ability to critically evaluate research, which will continue to serve me well as I progress through residency training and throughout my career as a physician."
Page's research project was just accepted for presentation at the International Congress of Parkinson's Disease and Movement Disorders conference in Vancouver. 
Media Contact:
Teresa Joseph
Phone: 602-827-2657
Categories