Fourth-year Phoenix medical students celebrate match into programs at Banner Health, Mayo Clinic, Maricopa Medical Center, St. Joseph's Hospital, Stanford University, Yale-New Haven Hospital and Johns Hopkins Hospital and others.
All 80 University of Arizona College of Medicine – Phoenix fourth-year students were lucky on St. Patrick's Day – whether Irish or not – as each matched successfully into residency programs where they will spend their next few years as physicians-in-training.
Balloons dropped and confetti fluttered to the ground at the downtown Phoenix Biomedical Campus exactly at 9 a.m. Friday, as medical students ripped open their envelopes along with more than 17,000 students from allopathic medical schools throughout the country.
Tijana Nikolich-Zugich described the experience as the best day of her life.
She matched into Johns Hopkins Hospital for Internal Medicine. "I've been to all three Match Days as a medical student and I've always shared the excitement, but I didn't realize what it really was like until I was opening my own envelope," she said.
Nikolich-Zugich completed a BS in Physiology and a BA in Gender and Women's Studies at the University of Arizona in Tucson before moving to Phoenix for medical school. She said Hopkins was "1,000 percent my first choice." She did a Pulmonary rotation at the Baltimore hospital in June and "fell in love with the culture."
Surrounded by her family's cheers and happy tears, Tabarik Al-Abbadi's letter read "Maricopa Medical Center," her first choice for training in Internal Medicine and Radiology.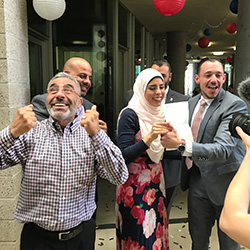 "I keep re-reading my Match Day letter to make sure it's real," said Al-Abbadi. "I really wanted to be at Maricopa because of the amazing culture and environment, but I thought it was maybe too far-fetched of a dream."
The local match means she will be near her family.
"I get to do what I love and follow my dreams with the very people who helped me get to where I'm at today," Al-Abbadi said. "I'm so blessed and grateful."
Nine other UA College of Medicine – Phoenix students matched with Maricopa, and another 10 will spend their residencies at UA College of Medicine – Phoenix located at Banner – University Medical Center Phoenix. A little more than one-third of the class of 80 will remain in Arizona for training. Thirty-four percent of the students want to become primary care physicians, the greatest need in Arizona. The UA College of Medicine – Phoenix is the only allopathic medical school based in the Phoenix metro area, and was created 10 years ago to address the growing need for more primary care physicians.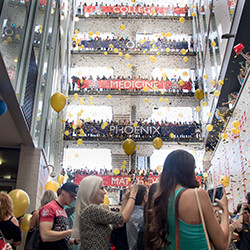 Fifty-one students will train outside of Arizona, including distinguished programs at Stanford University, Duke University Medical Center, Yale-New Haven Hospital, Emory University School of Medicine, Baylor, Cedars-Sinai Medical Center and UCLA Medical Center.
Susan Kaib, MD, associate dean of student affairs, congratulated the students and families who successfully matched.
"They have persevered through intensive studies, long clinical hours, rigorous skills training and numerous interviews with the purpose of finding and matching into their perfect residency program," she said. "The Class of 2017 is everything we could have hoped for in a class. They are kind, compassionate, genuine and overall are amazing individuals. They will make excellent future physicians."
Dressed in his U.S. Air Force uniform, 2nd Lt. Kole Spaulding said he found out in December where he would continue training to become an Emergency Department physician.
He decided to attend Match Day with his class, he said, because "it didn't feel right to celebrate without everyone else."
Spaulding, who grew up in Mountain Home, Idaho, and comes from a military family, will spend three years at the San Antonio Military Medical Center in San Antonio, Texas, before moving on to active duty for four additional years.
Casey Rosser and Sarah Monks, who participated in the couples match program, will be going to the University of North Carolina Hospitals Program, Rosser in Obstetrics and Gynecology, and Monks in Emergency Medicine.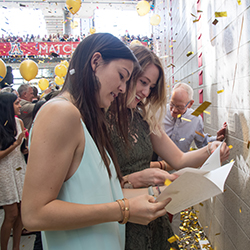 "I don't even really know how to describe this day, it's just all you've worked for through medical school," Monks said. "In one moment, it happens."
The couple was surrounded by their family and friends who cheered them on as they found out the exciting news. They were going out to brunch to celebrate with their classmates and friends.
"I guess it's time to look for flights to North Carolina!" Rosser said.
During the first half of their fourth year, medical students apply for positions at residency programs, then interview with program directors, faculty and residents.
In February, students submit their list of choices in order of preference – at the same time residency program directors submit their rank-ordered lists of preferred candidates – to the National Residency Matching Program headquarters in Washington, D.C. A computer matches each student to the residency program that is highest on the student's list and that has offered a position to the applicant.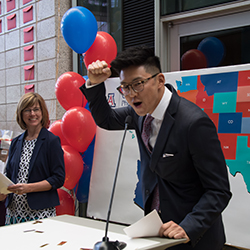 Residency programs vary in length from three years for general medicine/family practice specialties to seven years for the most specialized surgeons.
The UA College of Medicine – Phoenix admits 80 students per class and has graduated 273 MDs. Last year, it received more than 4,700 applications.​
Media Contact:
Marian Frank
Phone: 602-827-2022
Categories