The College of Medicine – Phoenix and the Phoenix Biomedical Campus adhere to the policies regarding environmental sustainability of the UA and NAU. Both institutions have signed the American College and University Presidents' Climate Commitment and have institutional Climate Action Plans. The college participates in the UA EcoOps program, dedicated to promoting sustainability initiatives throughout the University.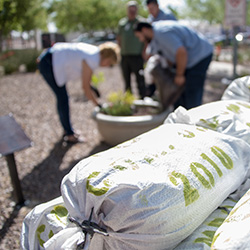 A PBC Green Team, formed in August of 2009, has contributed to the understanding of local sustainability practices and to defining the framework for a campus sustainability plan.  The Team successfully competed for a UA Green Fund award, receiving a $7,600 grant for a compost program and medicinal garden on the campus.  The Team periodically assesses sustainability efforts on campus, introducing improvements and new initiatives.
The Facilities office is responsible for coordinating a comprehensive environmental sustainability plan that includes:
Carpooling and public transportation program supported by UA Parking and Transportation and providing information on public transit.
CAT Wheels Program, a free bike share program for students, faculty and staff.
Compost program; we aim to reduce waste that goes to landfills while diverting materials into nourishing compost.
Comprehensive recycling program through Waste Management, which extends to such items as light ballasts, paper, cardboard, batteries, aluminum cans and glass bottles.
Energy efficient fixtures and systems; energy monitoring.
Programs supporting waste reduction, including the installation of water coolers on campus.
Toner Recycling program on campus supported by Campus Management and Operations, as well as LMI Solutions.
Use of sustainable products including green cleaning practices and methods.