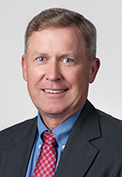 Dr. Flynn is the former dean and was once a professor in the departments of pathology and basic medical sciences. He received his medical degree and did his residency training at The University of Michigan. He completed post-doctoral work in oncologic pathology at Stanford University. Dean Flynn came to Phoenix from Yale University School of Medicine, where he was a professor of pathology and surgery, an accomplished researcher, director of the residency program, co-director of the school's medical studies, a leader in the design of the school's four-year curriculum and founding member of The Society of Distinguished Teachers at Yale.
Dean Flynn was instrumental in developing and implementing the curriculum and lending leadership in the formative stages of the Phoenix campus. He taught anatomic and clinical pathology and the translational interface between basic sciences and clinical medicine.
As the author of more than 100 articles, books and monographs, he has received numerous honors including America's Top Physician's Award from the Consumers' Research Council of America, Teacher of the Year Award from Yale University School of Medicine and The Averill A. Liebow Award for excellence in the teaching of pathology residents from Yale University School of Medicine. He is presently a member of the National Board of Medical Examiners Pathology Test Committee and USMLE Step I Test Material Development Committee.