4th Annual Phoenix Research Resources Open House
Thursday, October 6, 2022 2:00 PM to 5:30 PM
Health Sciences Education Building
435 N. 5th St.
Phoenix, AZ 85004
United States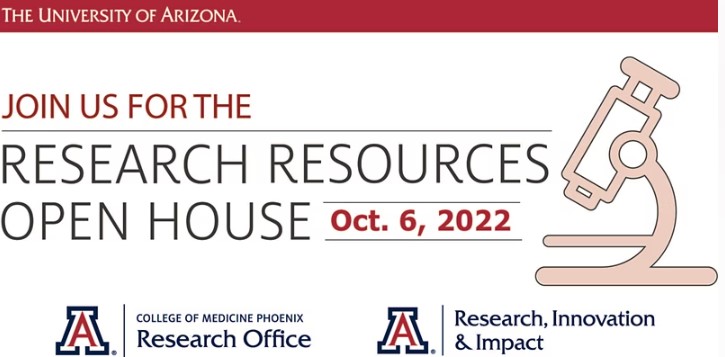 Schedule
2:00 to 3:45 p.m.: Research Resources Open House in Health Sciences Education Building (HSEB) C204 and C206 – Resources and services will have tables allowing attendees an opportunity to ask questions, network and learn more!
3:45 to 4:00 p.m.: Transition to Outdoor Grand Canyon.
4:00 to 4:55 p.m.: Leadership remarks in the Outdoor Grand Canyon.

4:00 p.m.: Chris Glembotski, PhD, associate dean for Research at the University of Arizona College of Medicine – Phoenix.
4:10 p.m.: Guy Reed, MD, MS, dean of the UArizona College of Medicine – Phoenix.
4:25 p.m.: Michael D. Dake, MD, senior vice president for Health Sciences at the University of Arizona.
4:40 p.m.: Elliot Cheu, PhD, Associate Vice President, University Research Institutes.

4:55 to 5:30 p.m.: Networking reception in the Outdoor Grand Canyon.
Phoenix Research Services
Biomedical Imaging Core.
Biostatistics and Study Design Services.
Clinical Research Support Services.
Flow Cytometry Core.
Laboratory Operations.
Molecular Discovery Core.
Phoenix Bioscience Core.
UAHS Research Administration.
Research Office.
Graduate Training Office.
Tucson Research Services
Animal Welfare Program.
HIPAA Privacy Program.
Human Subjects Protection Program.
Office for Responsible Outside Interests.
Research Development Services.
Research Integrity Program.
Research Laboratory & Safety Services and Occupational Health.
Responsible Conduct of Research Program.
Sponsored Projects Services.
Tech Launch Arizona.
University Animal Care.
Contact
For questions regarding the event, please contact: COMPHX-ResearchOffice@email.arizona.edu.