Being an Ally to Create an Inclusive Workplace
Monday, April 19, 2021 1:30 PM to 3:30 PM
Everyone in your organization is responsible for exemplifying and reinforcing positive, civil behavior. This means entry level employees, all the way up to C-suite executives, play a role in creating an inclusive work environment and culture.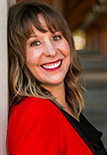 In order to do so, they must become aware of their own personal communication style and how it affects those around them, as well as have actionable tools for addressing non-inclusive behavior when they witness it. Leaders who attend this webinar will be able to go back to their organization with tangible tools for creating an inclusive workplace, where every employee is involved in sustaining a positive culture.
This virtual presentation will be hosted by Catherine Mattice Zundel, MA, SPHR, SHRM-SCP.
For questions, please contact Lydia Kennedy.