Even Serena Williams has a Coach: Embrace Media Training and Communicate Like a Pro
Wednesday, March 31, 2021 3:00 PM to 5:00 PM
The UArizona College of Medicine – Phoenix Women in Medicine and Science (WIMS) Executive Committee hosts a professional development workshop focused on media training and elevated communications tactics. The workshop is open to all faculty, staff, residents and students at the University of Arizona.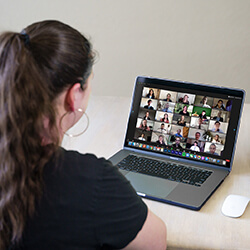 Communicating effectively is essential for leaders at all levels in academic education. When it comes to strategic communications, the only thing that hasn't changed is the need to be prepared. With the goal to advance the public's understanding of medical schools, teaching hospitals, research benefits and public health initiatives, building fruitful relationships with the media is critical in order to amplify those strategic priorities.
Working with the media is more than just talking to a journalist. Zoom meetings, Facebook live, webinars and podcasts, as well as traditional television, radio and print media all require skill, groundwork and preparation.  This session will highlight how to prep for interviews and speaking appearances — with the goal of communicating concisely and effectively. WIMS executive members and a former news director and journalist will share insider knowledge and offer pro tips that are sure to elevate professionals at all levels.
There will be two opportunities to participate on March 31 (register for one or both sessions):
3:00 – 4:00 p.m.: General session with keynote speaker and panelists.

This is open to all attendees.

4:00 – 5:00 p.m.: Small group session/role play training facilitated by WIMS Executive Committee.

This is open to the first 28 registrants.
Must be registered by March 24.
A brief pre-workshop question and answer exercise will be required to complete prior to the event.
Learning Objectives
Discover the steps necessary to achieve on-camera readiness and sound confident, comfortable and relaxed.
Understand how to craft effective sound bites, prepare talking points, respond to difficult questions and develop transferable skills for virtual presentations, podcasts and social media interviews.
Learn how to enhance your personal brand and marketability through media interviews.
The general session will be recorded. For questions, please contact Julie Parrish.
This workshop is presented by the Women in Medicine and Science group.