Translational Cardiovascular Research Center Monthly Seminar Series
Wednesday, October 12, 2022 12:00 PM to 1:00 PM
Health Sciences Education Building, C206
435 N. 5th Street
Phoenix, AZ 85004
United States
The University of Arizona College of Medicine – Phoenix Translational Cardiovascular Research Center (TCRC) presents this monthly seminar series, which will cover diverse topics in Translational Cardiovascular research.
Presenter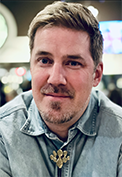 Brett Colson, PhD
Associate Professor of Cellular and Molecular Medicine, UArizona College of Medicine – Tucson
Seminar Title
Dynamic Probes of Muscle in Cardiomyopathy and Therapy.
Faculty Hosts
For additional information, please contact Tina Allen, administrative assistant for the TCRC, 602-827-3240. This seminar will be hybrid.
Location: Health Sciences Education Building — 435 N. 5th Street, Phoenix 85004 — room C206 or join via Zoom.