Virtual Presentation Event Dr. Paul Gordon's Listening Tour
Wednesday, October 21, 2020 5:00 PM to 6:30 PM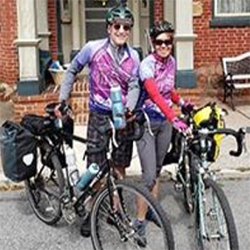 Dr. Gordon took a nine-week sabbatical from mid-May through July. His trip was a self-supported bike ride (no support van) through rural areas of the country, engaging in conversations with people about health care policy, the current proposals and how they think it might influence their vote in the upcoming elections. He had about 35 conversations riding through Pennsylvania, Ohio, Michigan, northern Wisconsin, northern Minnesota, North Dakota and across the Cascades in Washington State.
Agenda
5:00 to 6:00 p.m. – Presentation.
6:00 to 6:30 p.m. – Q&A.
*All Certificate of Distinction Students that attend will receive seminar credit toward their COD requirements.