Women in Medicine and Science Book Discussion
Thursday, August 20, 2020 5:15 PM to 6:45 PM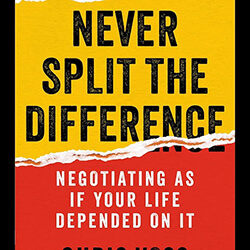 Join us for Never Split the Difference: Negotiating As If Your Life Depended on It by Chris Voss. Chris Voss has culled and perfected negotiation principles from his career as a hostage negotiator and later as a teacher in the world's most prestigious business schools. This handbook is well suited to women and will dispel the idea that powerful environment requires an overt display of power or dominance.
This book discussion will be led by Kim Lucas, MD, and Theresa Currier Thomas, PhD.
The event is sponsored by the college's Women in Medicine and Science group and is open to all College of Medicine – Phoenix faculty, staff, students and friends.
*This book is available for purchase on either Amazon and Barnes and Noble.