Women in Medicine and Science Book Discussion
Thursday, October 15, 2020 5:00 PM to 6:15 PM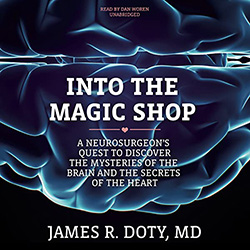 Join us for Into the Magic Shop: A Neurosurgeon's Quest to Discover the Mysteries of the Brain and Secrets of the Heart by James R. Doty, MD. Dr. Doty describes how simple techniques have had a profound effect on both his personal and professional paths. The memoir traces his evolution from troubled child to struggling student to distinguished neurosurgeon and CEO of a billion-dollar company.
This book discussion will be led by Amelia Gallitano, MD, PhD, and Theresa Currier Thomas, PhD.
The event is sponsored by the college's Women in Medicine and Science group and is open to all College of Medicine – Phoenix faculty, staff, students and friends.
*This book is available for purchase on either Amazon and Barnes and Noble.