Women in Medicine and Science Book Discussion
Thursday, August 26, 2021 4:30 PM to 6:30 PM
Health Sciences Education Building, C204 435 N. 5th St. Phoenix, AZ 85004 United States
Join us for an in-person event to discuss Influencer: The Power to Change Anything by Kerry Patterson, et al. This book is available at both Amazon and Barnes & Noble.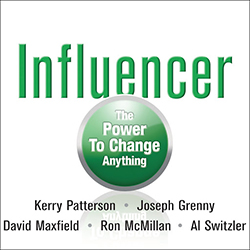 Whether you're a CEO, a parent, or merely a person who wants to make a difference, you probably wish you had more influence with the people in your life. But most of us stop trying to make change happen because we believe it is too difficult, if not impossible. We learn to cope rather than learning to influence.
Influencer: The Power to Change Anything is a thought provoking book that combines the insights of behavioral scientists and business leaders with high powered influencers from all walks of life.
This discussion will be led by Pamela Garcia-Filion, PhD, and Amelia Gallitano, MD, PhD.
Light refreshments will be served. Please bring your refillable water bottle.
The event is sponsored by the college's Women in Medicine and Science group and is open to all College of Medicine – Phoenix faculty, staff, students and friends.
For questions, please contact the Office of Equity, Diversity and Inclusion.