Pathway Scholars Program Chosen for Academic Program Award
The Pathway Scholars Program, led by director Maria Manriquez, MD, was chosen for the UA Peter W. Likins Inclusive Excellence Awards. The program provides academic, social and mentoring support to students from undeserved and diverse populations with the goal of helping them matriculate into medical school.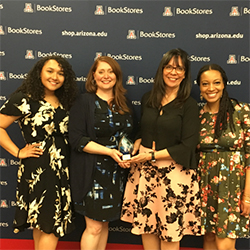 Francisco Lucio, associate dean of the Office of Diversity and Inclusion at the UA College of Medicine – Phoenix, nominated the program. The program, Lucio wrote, has helped 39 of its 40 participants enter medical school, a success rate of nearly 98 percent.
This year, the program's 10 participants completed the program and will matriculate into the College of Medicine – Phoenix's Class of 2023. Four members will graduate with Master of Medical Studies degree.
About the College
Founded in 2007, the University of Arizona College of Medicine – Phoenix inspires and trains exemplary physicians, scientists and leaders to optimize health and health care in Arizona and beyond. By cultivating collaborative research locally and globally, the college accelerates discovery in a number of critical areas — including cancer, stroke, traumatic brain injury and cardiovascular disease. Championed as a student-centric campus, the college has graduated 500 physicians, all of whom received exceptional training from nine clinical partners and more than 2,000 diverse faculty members. As the anchor to the Phoenix Biomedical Campus, which is projected to have an economic impact of $3.1 billion by 2025, the college prides itself on engaging with the community, fostering education, inclusion, access and advocacy.