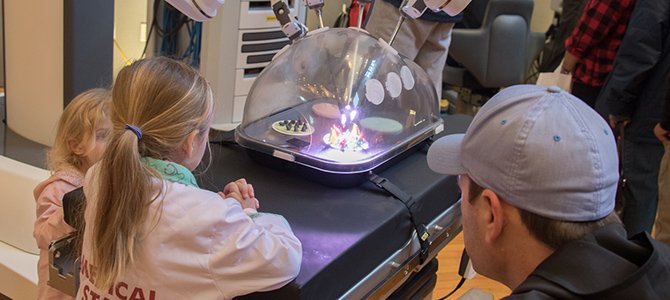 Why be an Exhibitor at Connect2STEM?
As an exhibitor you will have the opportunity to engage with STEM enthusiasts and be part of over 100 tables of hands-on science activities. Last year, the event drew more than 9,000 children and families. Showcase your organization's programs and products to the STEM community.
Registration
We are always seeking to expand this great event. If you would like to be a part of the upcoming Connect2STEM, please contact Aaron Sheets-Freburger, 602-827-2453, Event Services coordinator.
​*We request that all tables/exhibitors provide an interactive game or hands-on activity related to science, technology, engineering, math, health/wellness or college/career prep. We encourage educational games, physical activities and/or souvenirs that promote a memorable learning experience. Though everyone is welcome, we recommend planning your activities around the Pre-K to 8th grade age range.
Sponsorships
Major sponsors for Connect2STEM 2020 included Cox Communications, Banner Health, USAA, APS, Southwest Airlines and City of Phoenix. If you are interested in becoming a sponsor and being listed in the official program, please contact Aaron Sheets-Freburger, 602-827-2453.