COVID-19 Student Service Corps (CSSC)
General Information and Resources
A new coronavirus (COVID-19) has caused an outbreak of respiratory illness, which has been serious or fatal in a small percentage of people. The coronavirus, initially detected in China, has since spread to multiple countries, including the United States. Current understanding about how the coronavirus is contracted and spreads is still evolving. We continue to monitor this situation.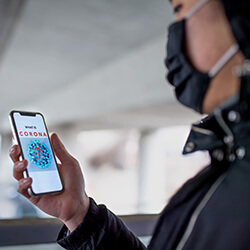 The University of Arizona College of Medicine – Phoenix is cooperating with the Arizona Department of Health Services, the University of Arizona and our educational partners to ensure the health of our medical students, faculty and staff. You may find information about the virus and how to protect yourself through these sources:
The CDC recommends practicing good personal health habits. It is important for everyone to take preventive actions that can help prevent the spread of respiratory illnesses:
Avoid close contact with people who are sick.
Stay home when you are sick, except to get medical care.
Cover your coughs and sneezes with a tissue.
Clean frequently touched surfaces and objects daily (e.g., tables, counter-tops, light switches, doorknobs and cabinet handles) using a regular household detergent and water.
Wash your hands often with soap and water for at least 20 seconds, especially after going to the bathroom; before eating; and after blowing your nose, coughing or sneezing. If soap and water are not readily available, use a hand sanitizer that contains at least 60% alcohol. Always wash your hands with soap and water if your hands are visibly dirty.
*Image credit: Centers for Disease Control and Prevention