COVID-19 Testing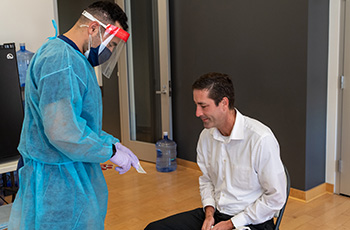 Throughout the Fall semester, COVID-19 testing will be available to students and employees every *Wednesday from 8:00 – 11:00 a.m. in room 115 of Building 4 (714 E. Van Buren Street, Phoenix, AZ 85006) on the Phoenix Biomedical Campus.
Should you have any questions or concerns, please reach out to either Jeffery Hanna or Wendy Nunez.
*There is no appointment necessary.
University COVID-19 Protocols
Based on the current health conditions and aligned with CDC guidance, as well as our commitment to deliver in-person learning at the University of Arizona, we will require face masks be worn in all indoor spaces where it is not possible to adequately and continuously maintain social distance.
We will comply with Section 15-1650.05 of the Arizona Revised Statutes, which prohibits public universities from requiring COVID-19 vaccination or from imposing mandatory COVID-19 testing based on vaccination status.
You will find below our latest COVID-19 guidelines, which are effective immediately at all University of Arizona campuses and locations throughout the state.  
Vaccination
In accordance with the new Arizona statute, the University will continue to strongly encourage, but not require, that all members of our campus community be vaccinated. Vaccination protects the vast majority of recipients from severe infection and transmission of the coronavirus, including the variants identified to date.
Campus Health is now offering the Pfizer vaccine to all University students and benefits-eligible employees. If you are unable to travel to Tucson, or would like to find a closer vaccination site, check VaccineFinder for availability in your area.
If you are fully vaccinated, please upload your vaccine document by using the secure HIPAA-compliant Campus Health system. This critical step will help us track our progress toward campus immunity. More than 20,000 students and employees have already completed their upload.
Vaccination Incentives
Employees who upload their vaccine document will be randomly selected to receive items such as annual parking permits, Campus Recreation memberships, Arizona Arts Live show tickets and many other incentives. Students will also be eligible for incentives. Visit the COVID-19 vaccine page to learn more.
Testing
We will continue to offer voluntary, free and convenient COVID-19 testing to students, employees and designated campus colleagues on campus. The University strongly encourages unvaccinated individuals to be tested for COVID-19 on a weekly basis, although COVID-19 testing is no longer mandatory for any students or employees. Visit the COVID-19 testing page for more information.
Please note that, in accordance with the new Arizona statute, the University may require students and/or employees to comply with mandatory COVID-19 testing in the event of a significant outbreak, as determined by the Arizona Department of Health Services.
If you experience any COVID-19 symptoms, we recommend you call to make an appointment to get tested by your health care provider, or at a convenient location of your choosing.
*Face Coverings
To mitigate the spread of COVID-19, the use of face coverings is required at all of our campuses and locations in Arizona, especially during group activities in indoor settings, such as:
Any building/facility that is operated by or affiliated with the University where patients or human research subjects participating in clinical research are seen in person.
In locations where personal protective equipment (including masks) has always been required to maintain safety protocols for situations with high hazards, such as areas where regulated chemicals are used or stored and other laboratory settings.
Please review the current CDC guidance on the use of masks.