COVID-19 Testing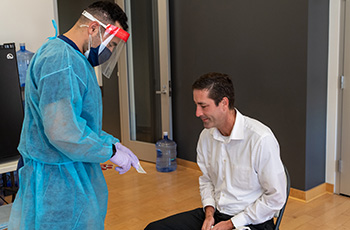 Throughout the Fall semester, COVID-19 testing will be available to students and employees every *Wednesday from 8:00 – 11:00 a.m. in room 115 of Building 4 (714 E. Van Buren Street, Phoenix, AZ 85006) on the Phoenix Biomedical Campus.
Should you have any questions or concerns, please reach out to either Jeffery Hanna or Wendy Nunez.
*There is no appointment necessary. Cats TakeAway Testing is also available in various campus locations.
University COVID-19 Protocols
Based on the current health conditions and aligned with CDC guidance, as well as our commitment to deliver in-person learning at the University of Arizona, we will require face masks be worn in all indoor spaces where it is not possible to adequately and continuously maintain social distance.
You will find below our latest COVID-19 guidelines, which are effective immediately at all University of Arizona campuses and locations throughout the state.  
Vaccination
Vaccines remain incredibly important, so the university encourages you to get vaccinated and boosted according to the schedule recommended by the CDC.
Visit Campus Health's COVID-19 Vaccine webpage for information on scheduling vaccination appointments (including Pfizer and Moderna booster doses), which will be offered beginning Jan. 11. See vaccines.gov for availability through community providers.
If you are fully vaccinated, please verify your vaccination status by uploading your vaccine document via the University's HIPAA-compliant system; or, if you received your vaccine in Arizona, you also can use the state's verification system. If you have received your booster dose, we also encourage you to upload your booster document.
To request disability accommodations — which include medical conditions — employees may contact the Disability Resource Center, 520-621-3268.
To request religious accommodations, employees may contact Human Resources.
Vaccination Incentives
Employees who upload their vaccine document will be randomly selected to receive items such as annual parking permits, Campus Recreation memberships, Arizona Arts Live show tickets and many other incentives. Students will also be eligible for incentives. Visit the COVID-19 vaccine page to learn more.
*Face Coverings
Everyone (faculty, staff, students, DCCs and visitors) is required to wear a surgical- or higher-grade mask (KN95, N95, KF94 and N99) in indoor spaces at all campus locations when six feet of continuous physical distancing cannot be maintained. Campus signage will be updated to indicate spaces where masks are required.
Please note that cloth masks will no longer meet the requirement. However, you may combine a cloth mask (top layer) and a surgical mask (bottom layer) to improve fit and increase protection. (See this guidance from the CDC for more information on fit and protection).
Surgical-grade masks will be available at no cost through building managers and at entrances of buildings and classrooms. Visit the Face Coverings page for more information.
Testing
We will continue to offer voluntary, free and convenient COVID-19 testing to students, employees and designated campus colleagues on campus. Although COVID-19 testing is no longer mandatory for any students or employees, frequent testing remains an important mitigation practice to stop the spread of COVID-19. The University strongly encourages students and employees to test weekly. Visit the COVID-19 testing page for more information.
Please note that, in accordance with the new Arizona statute, the University may require students and/or employees to comply with mandatory COVID-19 testing in the event of a significant outbreak, as determined by the Arizona Department of Health Services.
If you experience any COVID-19 symptoms, we recommend you call to make an appointment to get tested by your health care provider, or at a convenient location of your choosing.
The Phoenix Biomedical Campus now offers Cats TakeAway Testing as a convenient option for University of Arizona students, employees and active designated campus colleagues to get tested for COVID-19.
TakeAway stations are available at the following locations:
Test Yourself:
Pick up a PCR saline gargle test kit, or several, and take them home with you for future testing needs.
Use your cell phone to register and scan your tube. Test yourself at home or on campus. If on campus, be sure to test in a private and physically distanced location, or outside. 
Drop off your test at any time. Tests will be collected and delivered to Tucson Monday, Wednesday and Fridays with a three-day result turnaround.
For additional information, please visit the Cats TakeAway Testing website, or email Wendy Nunez.