COVID-19 Testing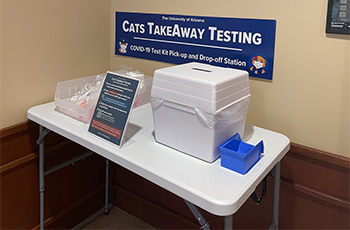 Cats TakeAway Testing is available in various campus locations. Testing kits can be dropped off at anytime, but samples are picked up and taken to Tucson to be processed Monday, Wednesday and Friday.
Return to In-Person Work
As we continue to migrate toward mostly in-person operations, supervisors have been asked to communicate the expectations for their units to their teams, and to discuss whether flexible work arrangements can be facilitated without disrupting departmental needs and/or the student campus experience.

For assistance with making work arrangement decisions, supervisors can consult the Workplace Decisions Guidance for Supervisors page for protocols, tools and resources. They may also contact Human Resources with any questions. Individual employees looking for guidance and support in discussing their needs to transition back to campus workspaces may begin with the Human Resources COVID-19 Guidance page to find information and resources.

We want to emphasize that, to help ensure the health and well-being of our entire campus community, the University will continue to monitor public health conditions and engage in preventive efforts based on the advice of Arizona public health officials and experts.

Please consult the University's COVID-19 website for the latest information.
Spring 2022 Plans
We recognize and are monitoring the risks and challenges posed by the continuing spread of the omicron variant; and we will continue to review the public health data daily, including rates of community transmission, to inform our approaches. We will communicate any changes to our teaching operations as needed. Updates also will be posted to the Academic Instruction Resources.
Questions About Positive COVID-19 Cases
Questions about positive COVID-19 cases on the Phoenix Biomedical Campus may be directed to:
We will continue to make available the latest updates on the COVID-19 section of the college's website.