COVID-19 Testing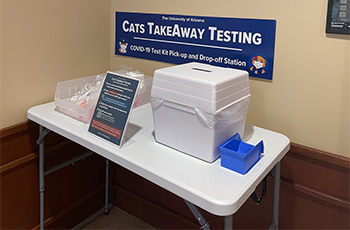 Cats TakeAway Testing is available in various campus locations. Testing kits can be dropped off at anytime, but samples are picked up and taken to Tucson to be processed Monday, Wednesday and Friday.
Safety Protocols, Policies and Procedures
Curriculum Changes
In July of 2021, nearly all learning activities for the 120 students from the Class of 2025 (MS1) and 98 students from the Class of 2024 (MS2) began being held on campus.
Arizona Law Changes
Under the new Arizona law, students may be required to submit to health screenings and testing mandates and/or provide proof of vaccination if:
The student is participating in clinical settings at an institution licensed under A.R.S. Title 36 (hospitals, nursing care home, residential care institutions, intermediate care institutions, facilities for individuals with intellectual disabilities, group homes or other medical facilities) and the institution has screening, testing, and/or vaccination requirements.
The student is engaged in research or testing that involves a live COVID-19 virus.
Clinical Partners
Banner Health is now requiring all of its team members to be fully vaccinated against COVID-19 by Nov. 1, 2021. This includes all medical staff, volunteers, Banner Staffing Services team members, external contract labor, vendors, contingent labor and students who perform certain functions in Banner Health facilities.