Greetings Campus,
The American Medical Association has named September "Women in Medicine" month to highlight the accomplishments and contributions of women in the medical community. In honor of this year's theme, "Women in Medicine: Trailblazers, Advocates and Leaders," we at the University of Arizona College of Medicine – Phoenix are proud to recognize the efforts of our women scientists and clinicians who dedicate their careers to advancing the medical field and providing patients the highest quality care.
The women at the College of Medicine – Phoenix are trailblazers, paving the way for the next generation of female scientists and clinicians. Two years ago, under the Office of Diversity and Inclusion, our Women in Medicine and Science (WIMS) group formed on campus to promote the advancement, leadership and success for women faculty in all roles within academic medicine and science. The members of WIMS have been instrumental in creating a supportive and instructive network to promote an equitable environment and greater career satisfaction for women faculty in academic medicine.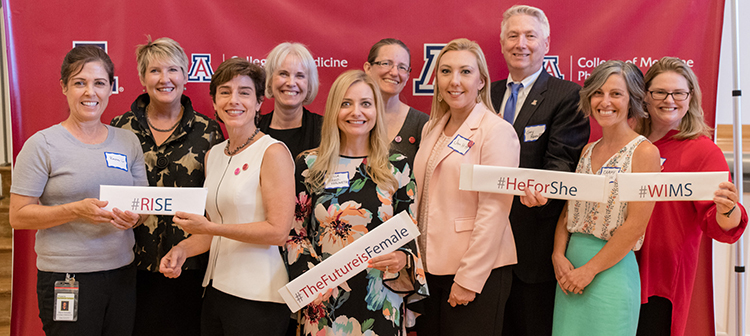 At the College of Medicine – Phoenix, women outnumber men in the classrooms, aligning with our goal to create an inclusive environment for all qualified applicants. For example, our Class of 2021 had 60 percent women, and the number of women choosing medicine as a career continues to grow.
We continue to make great strides to increase the visibility, leadership and representation of women in medicine.
This has been an instrumental year for our WIMS group. Earlier this year, Jennifer Preston, MD, program director of the General Surgical Residency, and Anne Titelbaum, PhD, an assistant professor in Basic Medical Sciences, received awards at the AAMC Early Career Development Seminar. Cheryl O'Malley, MD, associate dean of Graduate Medical Education, and Martha Gulati, MD, MS, chief of the Division of Cardiology, graduated from the prestigious Hedwig van Ameringen Executive Leadership in Academic Medicine program.
Rebecca Fisher, PhD, was promoted to full tenured professor in the Department of Basic Medical Sciences. Taben Hale, PhD, an associate professor in the Basic Medical Sciences Department, was selected as one of the Arizona Capitol Times' inaugural Women Achievers of Arizona. This is just a partial listing of the great work and recognitions of our women faculty.
In the coming months, I encourage you to be on the lookout for the extraordinary work that is ahead as the group, under the leadership of Amelia Gallitano, MD, PhD, continues to organize events focused on career growth, advocacy, mentoring and networking.
These are just a few of the many contributions the women at our medical school are making to advance medicine and science in our community. Please join me in celebrating our colleagues and their outstanding accomplishments. Throughout the month, we will publish profiles of some of our women faculty who share their empowering stories about physicians and scientists who helped shaped their careers in medicine. Look for our special coverage and highlights on our social media channels.
We are extremely proud of your successes and dedication to not only patient care, but in challenging the status quo and advocating for inclusiveness at a local and national level.
Meet Our Women in Medicine and Science
Sincerely,
Guy L. Reed, MD, MS
Dean and Valley of the Sun Professor
UA College of Medicine – Phoenix