Greetings Campus,
As we recently welcomed the Class of 2023 to medical school, we let our students know right from the start that we care deeply about their wellness and emotional health.
Before classes started, our incoming students gathered in northern Arizona for a three-day, two-night retreat that focused on establishing early skills for well-being, diversity, leadership and professionalism. They also met the members of their own peer wellness team, an informal mentoring group, who will stay connected all four years of medical school.
The College of Medicine – Phoenix recognizes the emotional health of their students and residents is key to building successful, resilient physicians. According to the Association of American Medical Colleges, physicians have higher rates of burnout, depression and suicide than the general population, yet they are less likely to seek mental health treatment.
We are serious about building wellness programs not just for our students, residents, faculty and staff, but for our community.
Led by Daniel Drane, EdD, our wellness efforts provide targeted programs, training and curriculum to build healthy and help-seeking habits around mental health.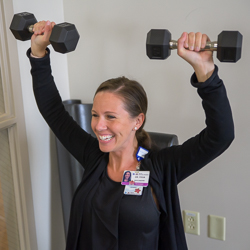 We also foster a supportive learning environment, encouraging self-care, resilience and pursuit of their passions outside of medical school.
We know that our students graduate and move on to their residencies with the technical skills to succeed and now we are helping them progress in their emotional health.
In May, Banner University Medical Center – Phoenix opened a 4,000-square-foot wellness space featuring a gym, yoga studio, kitchen, lounge, locker room, workspace, quiet rooms and a ping pong table.
In partnership with Banner, the new center on the 12th floor of Tower 2 provides a physical reminder for our residents to take care of themselves and to place a priority on their well-being.
Our faculty have hectic schedules as well, teaching, caring for their patients and finding time for their families. Thinking about wellness for our faculty is also a priority. I am enthusiastic about the new Faculty Wellness Subcommittee led by Bryan Sandweiss, MD, director of faculty development and wellness and Clinical Assistant Professor, Cardiology. He will lead the inaugural meeting of the subcommittee on Aug. 14 and I would like to personally invite faculty to attend. The goal is to develop a well-rounded and robust program for all faculty at our college.
Thank you for doing your part and joining our collective goal to improve our mental and physical health so we are better equipped to take care of each other and the patients we serve.
Sincerely,
Guy L. Reed, MD, MS
Dean and Valley of the Sun Professor
UA College of Medicine – Phoenix