Season's Greetings,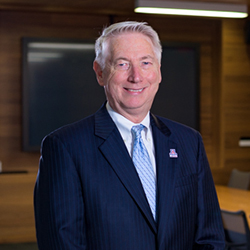 With the holiday season upon us, it's the perfect time to reflect on the successes from the past year and rejoice in our many accomplishments as a college.
I am continuously impressed and proud of the work of our faculty, staff and students. Without your work, none of the accomplishments over the past year would have been possible. In a span of a year, we've grown tremendously as a medical school and as a research institution. Our scientists continue to advance in medical research with several of our faculty receiving high-profile grants from leading institutions. Our faculty and staff continue to improve the care for the Arizona community and create a world-class teaching center for our students.
At the recent Founders' Day event, it was heartwarming to see the love for so many old friends, colleagues and mentors who were instrumental in establishing our college. The evening was an overwhelming success, as we reminisced about the past 10 years. I can say with certainty that the founders of this college are impressed with where we are at today and where we are heading. We have so much to be thankful for.
As we enter the New Year, I'd like to highlight our biggest community outreach event that is only a few short weeks away. On January 27, 2018, we will be hosting thousands of families as part of our annual Connect2STEM event, the official kickoff to the Arizona SciTech Festival. I hope that our campus fully embraces this event and welcomes these future scientists, doctors and STEM professionals to our campus.
I'm grateful and honored to serve as the Dean of this college. I know that we will continue to strive toward excellence, and I cannot wait to see what the next 10 years has in store.
My hope is that you enjoy your deserved time during the holidays to enjoy your family and friends.
Happy Holidays,
Guy L. Reed, MD, MS
Dean, UA College of Medicine – Phoenix