Dear Colleagues,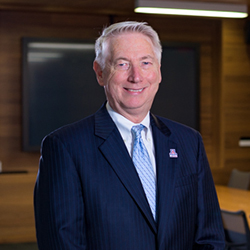 We have arrived at the time of year where all the hard work of our students comes to fruition. We just completed Match Day, and soon Commencement will be upon us.
As an educator, Match Day is a cherished milestone for all of us to celebrate. It was truly a day of excitement.
Our fourth-year medical students will spend their next chapter serving the community, alleviating pain, curing disease and giving hope to so many. I speak for the entire campus when I say that we could not be more proud of the Class of 2018. It's inspiring to think of all they have and will accomplish in their careers as compassionate and caring future physicians.
Our students will join the 354 alumni that have graduated from the University of Arizona College of Medicine – Phoenix. They will go on to represent our College as physicians and researchers.
As our students embark on their next journey in their medical careers, I'd like to thank the incredible faculty who taught and mentored them along the way.
The timing is serendipitous, as we say thank you for your loyalty and dedication on Doctors' Day. In 1990, President George Bush designated Doctors' Day as a national holiday. It's a day of celebration that recognizes the contributions of physicians who serve our nation.
Our faculty and alumni have made such a broad impact within our community and across the world. Together, we have conducted ground-breaking research, trained hundreds of physicians, used informatics to solve leading problems in the world, searched for cures to deadly diseases, traveled across the globe to provide care to underserved communities and saved lives.
Join me today by honoring outstanding physicians. Share your stories, memories and videos using #HonorAPhysician on social media.
Today we honor our mentors, colleagues, future physicians and transformational leaders.

Thank you for everything you do and Happy Doctors' Day.
Guy L. Reed, MD, MS
Dean, UA College of Medicine – Phoenix