At our fully accredited Geriatric Medicine Fellowship, we are deeply committed to the care of the elderly person. Our diverse faculty and staff have created a supportive environment for learning, with clinical experiences in continuity clinics, inpatient and hospital consult services, hospice and palliative care, subacute and rehabilitation facilities, as well as long term care.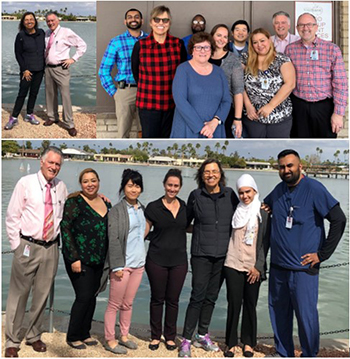 We provide care at highly regarded nursing homes and assisted living facilities, some of which are pioneering innovative approaches to dementia care.
Our fellows come from diverse backgrounds, as well, both nationally and internationally, and bring with them a variety of interests and life experiences. With planned social events throughout the year, they are able to develop collegial bonds that add to the strength and supportive nature of the program. Our goal remains to provide you with the environment to become the best possible geriatrician that you can be. Second- and third-year residents from Internal Medicine and Family Medicine programs rotate with us on a regular basis, and our fellows are integral in teaching these residents and making their rotation with us a positive learning experience.
In addition to the clinical experiences provided, we have a well-rounded didactic curriculum that includes noontime lectures, a quality improvement project and instruction on the intricacies of billing/coding/documentation and training in nursing home directorship. Fellows also have the opportunities to do research and receive financial support for attending a regional or national geriatric meeting.
Our faculty have diverse interests, including outpatient geriatric care, hospice and palliative care, long-term care, dementia care and hospital medicine and model creative alternatives to the office-based geriatric practice of old.
Administered through the Department of Family Medicine, the Geriatric Fellowship at Banner University Medical Center – Phoenix is intended for graduates of accredited programs in either internal medicine or family practice. If you are seeking real-world based training in the care of the elderly in a community with multiple opportunities for learning and future employment, this might just be the place for you!