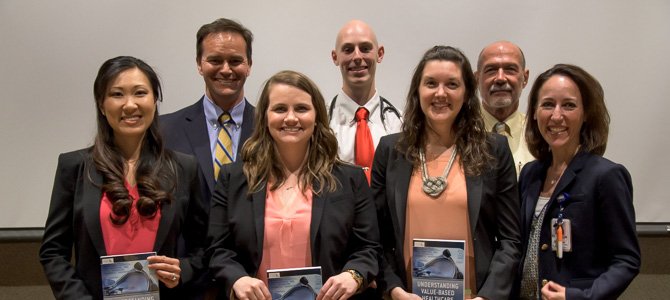 Improving patient care has always been a top priority for the UA College of Medicine – Phoenix and its clinical partners. As medical providers continually search for innovative solutions to enhance the safety and quality of care for their patients, Banner – University Medical Center Phoenix has facilitated that drive through its Annual House Staff Quality and Safety Day.
For the last four years, Banner has held the competition annually, inviting residents and fellows to come up with inventive, cost-effective and research-backed projects that will improve health care.
For the 2016-2017 year, Banner – UMC Phoenix medical staff donated prizes of $2,500 each to the three semi-finalists from the High Value Care Contest, who then had half a year to implement their project. A fourth "wild card" semi-finalist was also selected for the final $2,500 prize. Dr. Kristen Young was this year's winner.
Finalist
Kristen Young, DO, an internal medicine resident – Awarded best presentation and project for "Rethinking Contact Precautions."
Semi-Finalists
Ashley Casano, DO, surgery – "The Use of Ultrasound Guidance for Vascular Access."
Kenneth C. Klein, DO, internal medicine – "Rethinking Inpatient Thrombophilia Work-ups."
Wanda Shao, DO, psychiatry – "Cost-Effective Electrocardiogram Monitoring for Patients Treated with Psychiatric Medications."
*Each of these projects was presented at the event.
The House Staff Quality and Safety Day also includes a poster showcase of the quality improvement projects being led by residents and fellows.
The program was started four years ago by Steven Brown, MD, and Cheryl O'Malley, MD. This year's chairs were Dr. Brown, Richard Gerkin, MD, and Emily Mallin, MD. Dr. Brown is program director for the Family Medicine Residency; Dr. Gerkin is medical director for Graduate Medical Education Research; and Dr. Mallin is director of Academic Medical Service.