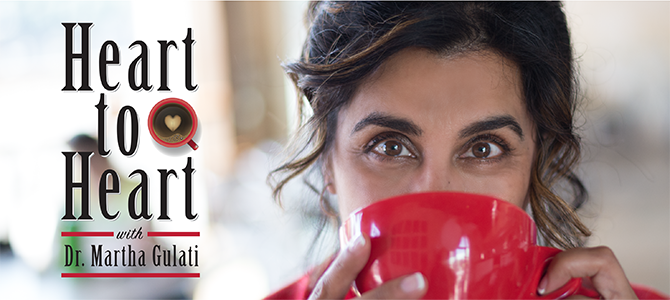 Heart disease is the #1 killer of women — just like men. So why don't we ever talk about it? Internationally recognized expert on heart disease, Dr. Martha Gulati, brings us a four-part video series to raise awareness about heart disease and the particular risks that women face.
Share the Video and Save a Life
Dr. Martha Gulati and the University of Arizona College of Medicine – Phoenix created the Heart to Heart campaign to educate everyone — especially women — about the risks of heart attacks and stroke. Dr. Gulati makes this important dialogue fun, engaging and informative — all over a cup of coffee.
Martha Gulati, MD, MS, FACC, FAHA (Full Bio), is Division Chief of Cardiology for the UA College of Medicine – Phoenix, Physician Executive Director for Banner – University Medicine Heart Institute and Editor-in-Chief of the American College of Cardiology "CardioSmart" initiative.
Tips for a Healthy Heart
Episode 1: The Facts
Episode 2: The Bikini Approach
Episode 3: Men vs Women
Episode 4: Be Empowered
Special Thanks to our Partners!