Wellness Wednesdays - The Amazing Healing Properties of Food
Wednesday, July 15, 2020 12:00 PM to 12:30 PM
From Squelching Inflammation to Maintaining Healthy Weight
Laura Galinat, MD, Associate Professor, Department of Family and Community Medicine,
UArizona College of Medicine – Tucson, and Certified Culinary Medicine Specialist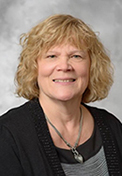 What's on your plate? Food can be a powerful tool to maximize your health. Even minor adjustments to your diet can bring huge benefits and help reduce inflammation, maintain a healthy body weight and sharpen your mental focus. Dr. Galinat will provide tips and resources to help you get on track and stay on course for a healthy diet and healthy life.
Dr Galinat is a family physician who is certified in integrative medicine and culinary medicine, a subset of integrative medicine that blends the art of cuisine and cooking with the science of medicine. Dr. Micek-Galinat helps patients better understand the important connections between the foods they eat and their overall health.
About Wellness Wednesdays
UArizona Health Sciences is committed to creating a healthier community and helping individuals and families stay well through these challenging times by offering weekly 30-minute, interactive webinars. 
These webinars feature UArizona Health Sciences-affiliated faculty and staff members as presenters and provide information and tools to help support individuals as they navigate the new reality of Arizona's stay-at-home orders in response to the COVID-19 pandemic.
Questions? Contact Annemarie Medina, director, corporate and community relations – Tucson, UArizona Health Sciences, 520-621-6838