Wellness Wednesdays - Optimizing Your Health
Wednesday, July 1, 2020 12:00 PM to 12:30 PM
Preventing and Treating Chronic Disease with Lifestyle Medicine
Farshad Fani Marvasti, MD, MPH (Dr. Shad)
Clinical Associate Professor, UArizona College of Medicine – Phoenix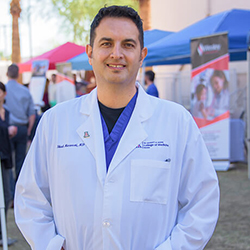 Through this webinar, learn how to protect and boost your immune system through important lifestyle behaviors like diet, exercise, and sleep. Dr. Shad will also discuss how chronic illness can be a high-risk factor for viruses and other medical conditions.
Farshad Fani Marvasti, MD, MPH (Dr. Shad) is a physician and medical educator who is actively working to create innovative solutions for the chronic diseases of our time. He has undertaken research, published articles and medical textbook chapters on disease prevention, nutrition, health promotion, wellness and complementary and alternative medicine since 1997. Dr. Shad is engaged in research on healthy lifestyles including targeted food and exercise therapies to treat and prevent diabetes and cardiovascular disease.
For more information on Dr. Shad, visit doctorshad.com and be sure to follow him on Facebook | Instagram | LinkedIn | Twitter.
About Wellness Wednesdays
UArizona Health Sciences is committed to creating a healthier community and helping individuals and families stay well through these challenging times by offering weekly 30-minute, interactive webinars. 
These webinars feature UArizona Health Sciences-affiliated faculty and staff members as presenters and provide information and tools to help support individuals as they navigate the new reality of Arizona's stay-at-home orders in response to the COVID-19 pandemic.
Questions? Contact Annemarie Medina, director, corporate and community relations – Tucson, UArizona Health Sciences, 520-621-6838