Wednesday, January 2, 2019
Capstone Opportunity Provides Students Diverse Clinical Exposure with Preceptors
Students at the University of Arizona College of Medicine – Phoenix are taking their training outside the classroom through a Capstone Program that allows them to gain early clinical exposure by shadowing a diverse group of health care professionals across the Phoenix area.
First- and second-year medical students at the college are exposed to approximately 40 specialties and subspecialties before entering their clinical training. Students work with preceptors from a variety of fields that can include a pediatric geneticist, a DNA diagnostics lab, a naturopath or even a chief medical officer of a hospital.
"It makes it all real to them," Jennifer Hartmark-Hill, MD, director of the Capstones Program said. "What they are learning in basic sciences and doctoring, they are seeing in the real world. It helps remind them why they went to medical school. They enjoy the learning, but there are so many exams and so much stress within medical school that this helps refuel that passion for medicine. It makes all the work worth it."
Students participate in Capstone Clinical Experience Weeks immediately following each organ or system block. The program provides them with innovative and clinically focused observational learning experiences, which reinforce content from the preceding block.
Each of the 40 clinical experiences are about a half day, with three occurring within a week. To Dr. Hartmark-Hill's knowledge, the program is unique to the college, since most medical schools don't provide such an early exploration of possible career paths.
"My experience in the Capstone Program has been a valuable and an engaging way to explore different specialties and career opportunities within medicine," second-year medical student Jasper Puracan said. "These experiences enable me to link content that I learn from lecture material to actual patient cases, so that I can better identify nuances of care and the differences between textbook examples of disease processes and real cases."
So far, Puracan's favorite experience has been his time shadowing a psychiatrist at the Arizona State Hospital.
"It was a particularly eye opening because I was able to see a side of medicine that is not commonly shown," Puracan said. "Outside of the context of my visits with patients in the facility, I was able to appreciate the provision of mental health care and the incredibly interesting cases and interactions between provider and patient. It also helped to remove some misconceptions I had about psychiatry and the state hospital."
The program began when the college opened its doors in 2007 under the direction of Jaqueline Chadwick, MD, who saw the need for students to go out into the clinical world after they learned the basic sciences.
"This could be the first time the students are in a cancer center or the first time they are seeing a baby born," Dr. Hartmark-Hill said. "Even though it's short, it's very powerful for our students."
The Capstone course is one of many unique curricular innovations that sets the College of Medicine – Phoenix apart from many other medical schools. Students can select from three major categories for each Capstone week based on their own learning goals.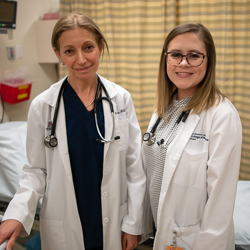 In addition to clinical shadowing, students are expected to do workshops of writing and reflection.
"When they are in their blocks, it's every day a mass amount of information. The science behind reflection is that it helps deepen and enhance the learning," Dr. Hartmark-Hill said.
Over the course of their four years, students complete eight writing prompts that relate to a preceding block or activity. For example, after the anatomy lab, students are expected to write a letter of appreciation to their willed body donor.
"Through these reflections, they are able to work through the complex emotions, ethics and experiences of medical school," Dr. Hartmark-Hill said.
May Mohty, MD, co-director of the Capstone Program, has participated as a preceptor with her husband for more than seven years. Dr. Mohty is a pediatrician at HonorHealth and an urgent care physician at CIGNA Urgent Care; her husband is an orthopedist/hand surgeon.
While shadowing Dr. Mohty, students observe history taking, physical examinations, as well as various procedures — like suturing, incision and drainage or joint aspiration. "For each case, they discuss the pathophysiology, differential diagnosis, what tests need to be ordered and how to reach a final diagnosis.
"Every physician and health care worker should strongly consider joining our preceptor team, for it is such a great experience to be able to show the medical students in their early pre-clinical years different career pathways and real life practice," Dr. Mohty said. "The enjoyment they will see on the faces of the medical students as well as the gratitude that these students express for such experiences is more than enough to encourage health care providers and allied health workers to be Capstone preceptors."
The program is looking for reflective reviewers and preceptors. There are currently a few hundred preceptors from public health, private practice, businesses, leadership positions and more.
"We are looking for people who feel very passionately about their specialty and want to share that with medical students," Dr. Hartmark-Hill said. "This is a great way to share that love and passion for your specialty and expose students without having that long-term commitment."
Categories