Arce is the First Bioscience High Alum to Graduate from UA College of Medicine – Phoenix, Fulfilling the Goal of the Downtown Biomedical Campus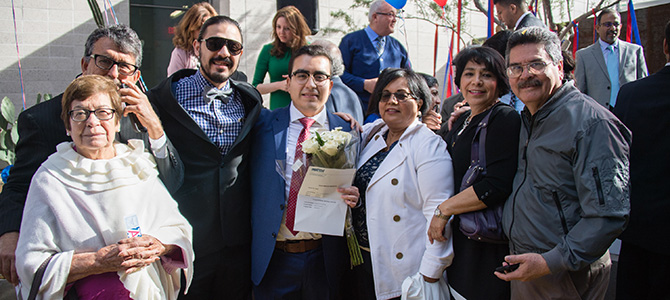 Fourth-year medical student Victor Arce was part of the first class of 43 students to graduate in 2010 from Bioscience High School, a Phoenix Union High School District school in downtown Phoenix with a primary focus in science and mathematics.
With the original intent to become an engineer, Arce never thought he'd be setting the path as the first student from Bioscience High to graduate from the University of Arizona College of Medicine – Phoenix, just three blocks away.
"At the time, I had no idea I wanted to pursue medicine, and I never would have imagined that I would be completing my medical education just a few blocks south of my high school," he said. "I feel grateful for all the efforts the City of Phoenix and the UA has put toward the Biomedical Campus here in Downtown Phoenix."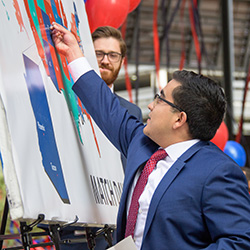 ​Arce will join 80 other medical students May 7 when he graduates from the University of Arizona College of Medicine – Phoenix. Ceremonies will begin at 3:00 p.m. from the campus at Fifth and Van Buren streets, and students and faculty in full regalia will be led by the Phoenix Pipe Band to Symphony Hall. The commencement program begins at 3:30 p.m.
Phoenix Union Bioscience High School provides students with a science education through collaboration with academic and scientific communities. The high school is part of the Phoenix Biomedical Campus, a 30-acre urban medical and bioscience campus with plans for more than 6 million square feet of biomedical-related research, academic and clinical facilities. Since its inception, the City of Phoenix has invested roughly $82.5 million into its development.
"Bioscience High focused on teaching students how to think critically, differently and how to tackle problems working in a collaborative environment," Arce said. "This, coupled with a rigorous academic environment focusing on STEM, helped me feel well prepared for college, and my success in college translated to an easier transition into medical school."
Arce attended Arizona State University, where he received his bachelors of science degree in biochemistry. During his time at ASU, Arce volunteered as a clinical coordinator and Spanish interpreter at Wesley Community and Health Center.
"I had the opportunity to work closely with UA College of Medicine medical students, and I was amazed by their friendliness, positive attitude and drive to serve their patients," Arce said. "This gave me a glimpse of the supportive College of Medicine – Phoenix culture and made it very easy to decide that I wanted to be a student here."
Born in Guyamas, Mexico, Arce and his family moved to the United States when he was seven years old because his parents wanted to seek a better life.
"Growing up as a migrant, with a low socio-economic background, and in a medically underserved part of Phoenix taught me a lot about the difficulties that many of the patients I see face in accessing health care," Arce said. "I hope to use my background to better understand the challenges my patients face and to tailor their care around these variables to ensure they receive excellent care." 
Arce will spend his residency in internal medicine at the University of Colorado. He chose internal medicine because it's the specialty he fell in love with during his third-year clerkship rotation at Maricopa Integrated Health Systems.
"I had an amazing team of caring residents and doctors that helped steer me toward Internal Medicine," he said. "I got to see firsthand just how much patient care and coordination is handled by the internist, and I felt that as an Internist, I could make the greatest impact on my patients by being at the center of their care."
During his time in medical school, Arce became involved with a number of student programs, volunteer work and chose to complete a Service and Community Health Certificate of Distinction. Being part of the Certificate of Distinction taught Arce a lot about social determinants of health. These are factors that have no pill or medical intervention that can be "prescribed," yet they greatly affect the health outcomes of patients.
"My time at the college taught me how to advocate for my patients," Arce said. "We learned to not only clinically intervene to improve health, but also how to address these other factors to better our future patients' health and their community. This is something that will shape how I practice medicine for the rest of my career." 
Categories