Monday, September 11, 2017
Alumnus of the College of Medicine – Phoenix, said the best approach to a traumatic brain injury is multi-disciplinary
Banner – University Medical Center Phoenix has plans to put a greater emphasis on the care and treatment of traumatic brain injuries, with a University of Arizona College of Medicine – Phoenix alumnus leading the charge.
Neurologist Ian Crain, MD, was named director of Banner's Brain Injury Center earlier this summer. He is an associate professor at the College and a member of the Class of 2012.
Dr. Crain completed a residency in neurology and a one-year fellowship in sports neurology at Barrow Neurological Institute at St. Joseph's Hospital and Medical Center. He assumes the title of Director of the Brain Injury Center and also will work in the Banner Concussion Center with Steven Erickson, MD.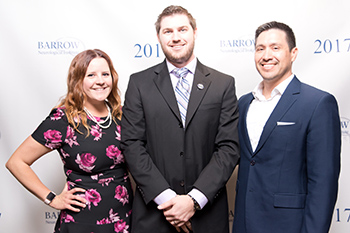 His Barrow fellowship included treating traumatic brain injury with a focus on sports-related mild traumatic brain injuries and concussions. The training highlighted the need for a multi-disciplinary approach to this complex injury, he said.
"It takes a team to provide comprehensive care, including therapists, neuropsychologists, optometrists and physicians," Dr. Crain said.
He remains involved at the College of Medicine as an associate professor, and he and his wife attended the College of Medicine – Phoenix student retreat in Payson in August to offer advice to incoming students. He met his wife, Allison, during medical school. She attended the UA College of Medicine – Tucson for two years before moving to the Phoenix campus.
Dr. Crain said he wanted to speak with the medical students, because hearing from other students helped him when he was in medical school.
"I learned a lot from people coming in to speak with us who were outside of academics and were not just giving a lecture, but were proving an insight into their careers in medicine," Dr. Crain said.
He advised current first-year students to avoid becoming something they are not.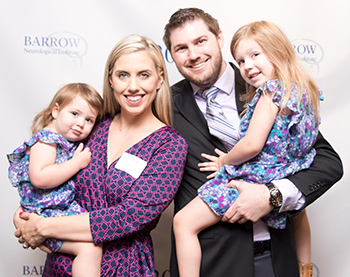 "Medical school is not going to – and it shouldn't – change who you are," Dr. Crain said. "Who you are before medical school is going to be who you are afterwards. What you are doing is not just four years of medical school or three to seven years of residency," he said. "We are talking about your entire life."
Dr. Crain attended Arizona State University on a pre-med track, majoring in Psychology. Through his undergraduate experience, he was able to participate in research labs where it cemented his decision to follow a career in medicine, which led him to the College of Medicine – Phoenix.
Dr. Crain was not accepted into medical school the first time he applied. "Rejection is not the end of the world," he said. "It is actually a normal part of life and it should better you. You are not 'less than' because of it; you are actually 'more than.' "
He said the challenge of not getting accepted the first time gave him the time to reflect on whether he wanted to apply again. He ended up working and taking courses at ASU that he wasn't able to take the first time around. Ultimately, this strengthened his application and his drive to continue pursuing medicine.
"My decision to become a neurologist and focus on traumatic brain injury started during my first year of medical school," Dr. Crain said. "My community mentor was Dr. Anais Sonder at the Phoenix VA. Many of her clinic patients had traumatic brain injury and their complex cases sparked my interest in the area."
Teresa Joseph
Phone: 602-827-2657
Categories