Thursday, November 15, 2018
Anthropologist Studying Evolution of Chewing System Joins Medical School
"As an anthropologist, I offer medical and allied health students an evolutionary perspective on understanding human anatomy," Halszka Glowacka, PhD, said.
Dr. Glowacka is an anthropologist and assistant professor at the University of Arizona College of Medicine – Phoenix. She began her role at the College in August 2018 and will be teaching first-year medical and allied health students in the anatomy lab, as well as conducting research on the evolution of the primate skull.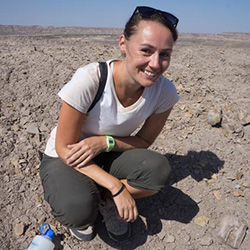 Dr. Glowacka's research focuses on the evolution of the chewing system. Through her research, she hopes to understand how different growth patterns lead to the variation we see in primate masticatory form. Her research also looks at how tooth shape in different primate species is adapted to diet and how this impacts food processing efficiency.
In her field work, Dr. Glowacka searches for fossil primates and exhumes gorilla skeletons. Depending on the location, Dr. Glowacka's field work can include meticulously peeling away at the sediment or walking around vast sediment exposures looking for fossils that have become exposed through erosion. Her first field work was in Hungary, at a 10-million-year-old fossil ape site. Since then, she has done field work in Ethiopia at a Pliocene fossil human location and in Rwanda, exhuming the remains of skeletonized mountain gorillas.
"That moment of finally unearthing something that has been in the ground for millions of years is pretty amazing, and it's not something you get to experience very often," she said.
Dr. Glowacka was always fascinated with the idea of where people came from and says studying anthropology has fueled that curiosity. "To understand where we come from, you have to look at it from the lens of evolution," she said.
Dr. Glowacka graduated from the University of Toronto in 2007 with degrees in Zoology and Anthropology. In 2017, she received her doctoral degree from Arizona State University, where she studied the biomechanical constraints on molar emergence in primates. After graduation, she spent a year at Washington University School of Medicine in St. Louis as a postdoc.
Although Dr. Glowacka started her new position at the College of Medicine – Phoenix in August, this isn't her first experience at the medical school. As a graduate student, she completed her anatomy training at the college and worked as a teaching assistant with Rebecca Fisher, PhD, director of the Gross Anatomy Laboratory. Dr. Glowacka said she is excited to return to the college for her research and teaching. She hopes to educate medical and allied health students on the importance of anatomy.
"Anatomical knowledge forms the foundation of their careers," Dr. Glowacka said. "It's something they will use every day to help them better care for their patients. Learning anatomy is a journey and takes a long time to truly understand. The anatomy lab is just one of the first steps in their medical journey, and I'm excited for the opportunity to be a part of it."
Categories