Teresa Wu, MD, Provides Students and Health Care Providers Resources to Enhance Training
One of the driving forces behind the reputation of the Center for Simulation and Innovation at the University of Arizona College of Medicine – Phoenix as offering one of the most innovative and advanced learning centers in the country is Teresa Wu, MD.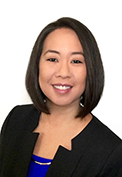 Dr. Wu joined the College in 2012 to help improve medical and clinical education by developing a comprehensive simulation curriculum for the medical school. When she joined the team as curriculum director, the Simulation Center was a new resource for the school, but wasn't being fully utilized for student training.
"As an Arizona native, I always wanted to give back to our community, students, residents and medical care throughout our city," Dr. Wu said. "The ability to train the students that will be our future doctors taking care of our country is pretty amazing."
Dr. Wu's Path in Medicine
Dr. Wu grew up in a single parent household. "I didn't come from much," she said. "I saw through my mom's strength and perseverance that she could raise three amazingly talented children who do so much good for our world. She believed that she could do it, and she knew that she had to do it. My mom is my inspiration and my hero."
When Dr. Wu was seven years old, her father was diagnosed with lung cancer at the young age of 34. She recalls the disease being so progressive and invasive, but he was actually misdiagnosed multiple times prior to the day he received the definitive diagnosis of lung cancer.
"He died because they weren't able to recognize or diagnose him early enough and initiate treatment quickly enough, so he passed away because of what was believed to be a medical error," Dr. Wu said. "I want to make sure other people never have to feel the pain that my family felt."
Dr. Wu attended the University of Arizona in Tucson, where she obtained her bachelor's degree in molecular and cellular biology with honors in chemistry. She went on to receive her doctorate of medicine from Johns Hopkins School of Medicine and continued her education by completing an emergency medicine residency and additional fellowships in emergency ultrasound and simulation/administration at Stanford University.
Although Dr. Wu works as an associate professor in emergency medicine at the College, she also enjoys working clinically at Banner – University Medical Center Phoenix as an emergency medicine physician, where she helps direct and run their point-of-care ultrasound programs.
"Emergency medicine is one of those fields where you can learn to do just about everything," Dr. Wu said. "You can help patients from all different walks of life and every age group. I love my job because it provides me with the training and the ability to help anyone in their time of need. It's such an important profession, as people come to us in the emergency department when they are scared or they are hurt, and it's so rewarding because you can do a lot of good for a lot of people."
Simulation Center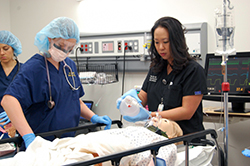 As part of her role as curriculum director for the Center for Simulation and Innovation, Dr. Wu and the simulation team have designed a curriculum that allows students to learn to do invasive procedures on simulation mannequins and task trainers — procedures they would normally have to learn how to do and practice on live patients. In addition, Dr. Wu has helped develop a curriculum that teaches advance concepts such as crisis resource management, interprofessional communication, multi-disciplinary communication, team training and the assessment and management of emergent and critical patients.
Besides teaching medical students, part of the goal in the simulation center is collecting data from the curriculum and sharing the results to educate others on what is being done in Phoenix.
"I am so proud of this program and this curriculum we built," Dr. Wu said. "It is one of the most innovative and advanced simulation curriculums in the country. Whenever we talk to other institutions, they are always amazed at what we can do here, and I remind them that our special sauce is our team. We have such an amazing group of individuals in our simulation center, and our College of Medicine faculty and staff are some of the best in the world to work with. Our team is dedicated to this incredible mission and vision, and we all work above and beyond to bring our ideas and curriculum to fruition."
Accomplishments
In 2013, Dr. Wu created an educational ultrasound mobile application that is being used in several countries throughout the world to train students and health care providers on how to use point-of-care ultrasound to help their patients. Any professional with an Internet connection can purchase and download the app, SonoSupport, and utilize it for free for the remainder of their career with regular complimentary updates that support medical education.
A few of Dr. Wu's most notable accomplishments include recently being elected to serve as the national Director of Simulation for the American College of Emergency Physicians (ACEP), serving as the director for multiple national and international ultrasound and simulation-based training courses, building and directing ultrasound and simulation fellowships for various institutions over the past decade, as well as being elected to co-direct simulation education and training for the National Teaching Fellowship sponsored by the American College of Emergency Physicians. She also is the proud mom of Kai and Kenna, who she calls "two wonderful, kind and brilliant children."
"I want to make sure that people benefit from everything I've been able to learn, and I want to continue to serve our world as an educator, healer, mentor and leader," Dr. Wu said. "I want to take everything I've been able to experience and learn about and utilize that so I can help others."
Advice to Current Students
Dr. Wu considers it an "honor and privilege" to be able to teach medical students and to be able to help so many people.
"All I hope is that I can do my part to teach doctors to treat their patients and care for them to the best of their abilities," Dr. Wu said. "I want students to know that anything is possible. That if they work hard and they have good intent and they are driven to do something good for this world, they can do it."
Media Contact:
Teresa Joseph
Phone: 602-827-2657
Categories