Thursday, January 26, 2017
Mitsubishi Gas Chemical Company Enters Long-Term Research Alliance with the Center for Applied NanoBioscience and Medicine to Shape Research Ideas into Global Impact
The University of Arizona's Center for Applied NanoBioscience and Medicine (ANBM) has signed the first five-year phase of an innovation partnership agreement with the Mitsubishi Gas Chemical Company (MGC) in Japan.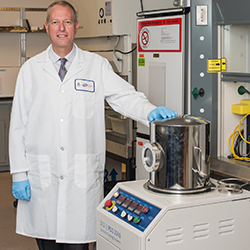 The alliance is meant to advance research in the synthesis of novel plastic materials and processes for 3D printing and other advanced manufacturing techniques, as well as develop biomedical devices that enable precision health and other emerging technologies in life sciences.
In addition to the partnership agreement, Mitsubishi Gas Chemical is contributing to the Center with an unrestricted gift to support the operations and lab's research projects. The Center, housed at the University of Arizona College of Medicine – Phoenix, will also have access to state-of-the-art analytical equipment and specialty engineers at the MGC Tokyo Research Laboratory. Visiting scientists from Mitsubishi Gas Chemical will be assigned a two-year rotation in Arizona to collaborate with researchers at the Center, which is led by professor and director Frederic Zenhausern, PhD, MBA.
"Our innovation engagement with MGC will nurture original ideas to accelerate progress in translational discoveries for changing the game in global health care technologies," Dr. Zenhausern said.
MCG Group does business in a wide range of fields, from basic chemicals to specialty and advanced materials. Toshikiyo Kurai, representative director and president of MCG Group, said the company hopes to develop new products in the health care sector.
The company's mission is to "contribute to society growth and harmony by creating a wide range of value through chemistry," he said.
"I am hoping for our success in the creation of novel products by combining the basic technology platform of Dr. Zenhausern's group and our business platform," he said.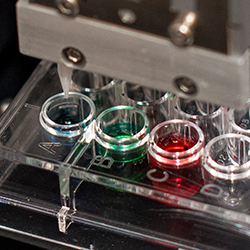 The mission of the Center for Applied NanoBioscience and Medicine is to develop technologies for automating and miniaturizing the processing of biological samples for delivering simpler diagnostic tests, accessing biomarkers more readily and bringing earlier and more precise health care. The team at the Center has participated in more than $250 million in sponsored projects over 10 years and has transferred several technologies to industry, including four startup companies. The value of its portfolio of projects is more than $8 million.
The Center has local clinical research collaborations with the UA/Dignity Health Cancer Center, the Maricopa Health Center, HonorHealth Research Institute and TGen, among others. It also is involved with several academic strategic partnerships, for example with the Duke Fitzpatrick Photonics Center at Duke University.
Based in Tokyo, Mitsubishi Gas Chemical is a leading chemicals group with a strong platform of proprietary technology.
Media Contact:
Marian Frank
Phone: 602-827-2022
Categories